Salmon Tartare with Avocado
Smoked salmon and avocado, accompanied by a citrus dressing with soy sauce, make this easy yet surprising recipe. If you have good ingredients, success is guaranteed.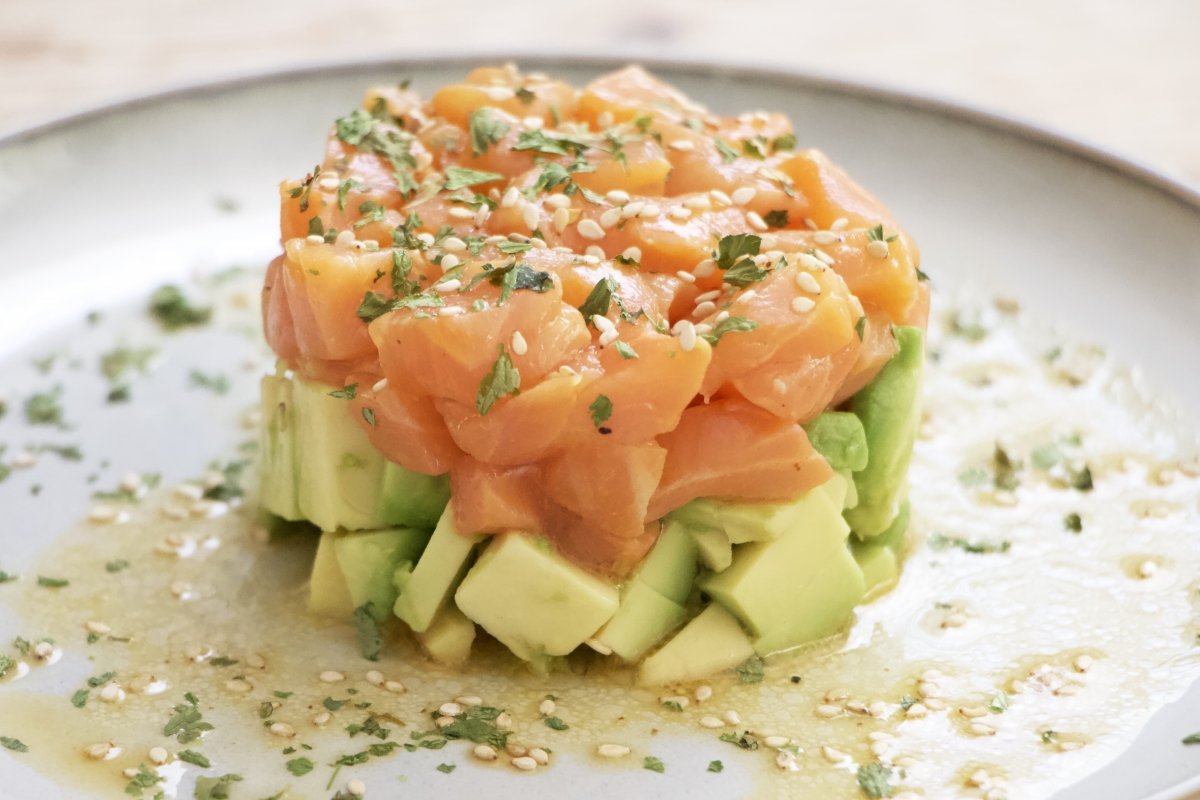 Although a tartare originally consisted of a raw preparation, generally of meat and accompanied by tartar sauce, today it is a widely used term. Nowadays, the term tartare refers to practically any preparation with small pieces of meat or fish accompanied with other elements, such as pickles or fruit, and dressed with a refreshing sauce.
The smoked salmon tartare with avocado is a recipe as easy and quick to prepare as it is delicious. It is a dish usually served as a starter or appetizer on celebrations or special occasions, however... why should we wait to celebrate something special to enjoy it? If you are one of those people who usually add smoked salmon and avocados to their shopping list when they are in season, you will surely have the rest of the ingredients in your pantry too. Dare to prepare this smoked salmon tartare with avocado as part of a Monday dinner or any other day for that matter.
Recipe information
Preparation time: 15 minutes
Total time: 15 minutes
Yield: 2 serves
Category: starter
Type of cuisine: French
Calories per serving (kcal): 340
Ingredients for Salmon Tartare with Avocado
1 piece of smoked salmon (about 5¾ oz)
1 large avocado
2 tablespoons extra virgin olive oil
2 tablespoons soy sauce
Juice of half a lemon
1 teaspoon mustard
1 pinch of freshly ground black pepper
Dry coriander, sesame seeds, chives… or the herbs or spices that you like the most to garnish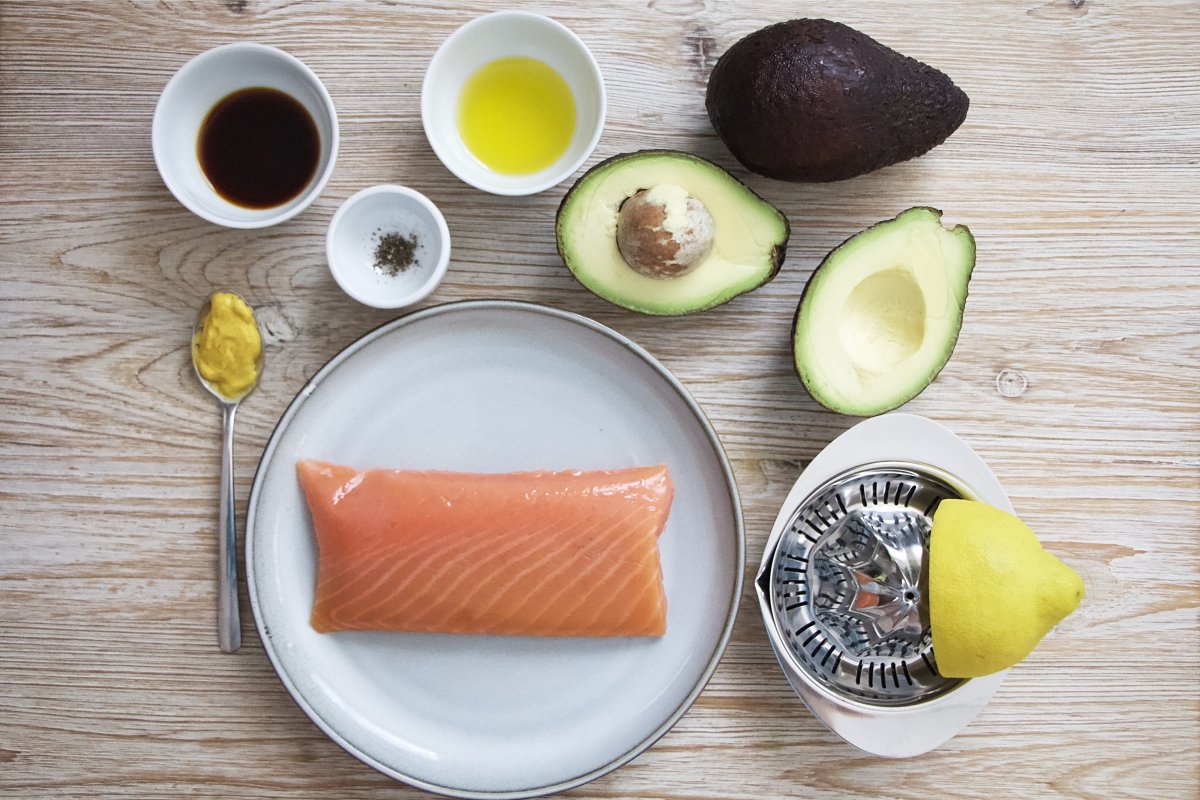 How to make Salmon Tartare with Avocado
Dice 1 piece of smoked salmon of about 5¾ ounces and 1 large avocado. Set them aside on two different plates.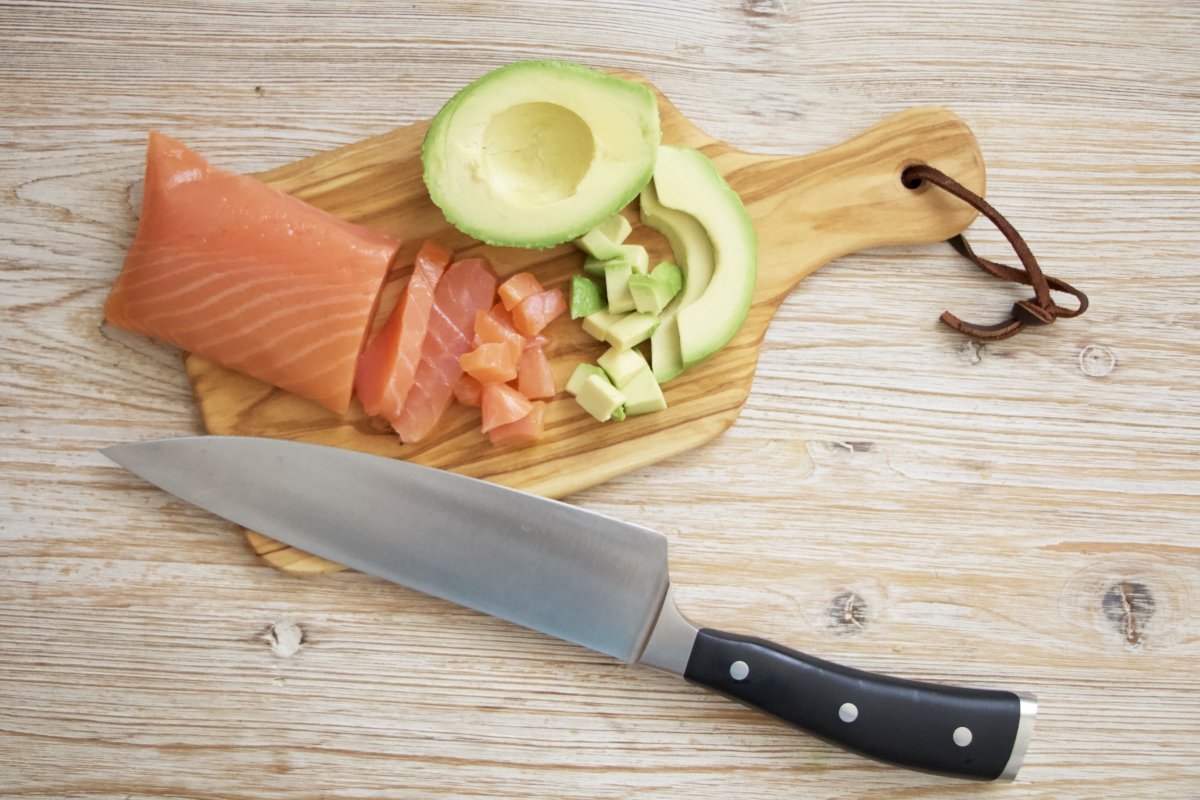 In a bowl, mix 2 tablespoons of extra virgin olive oil, 2 tablespoons of soy sauce, the juice of half a lemon, 1 teaspoon of mustard and 1 pinch of freshly ground black pepper. Stir all the ingredients until smooth.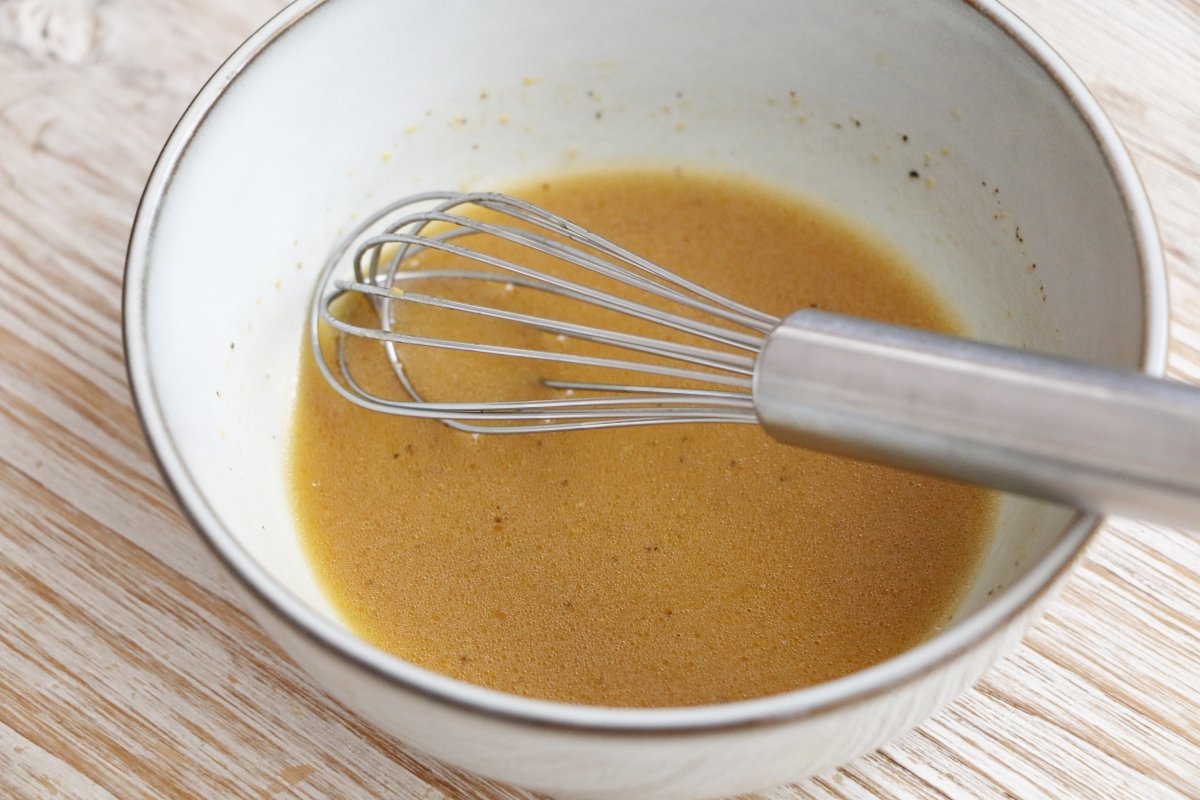 Add the dressing prepared in the previous step to the diced smoked salmon and mix well.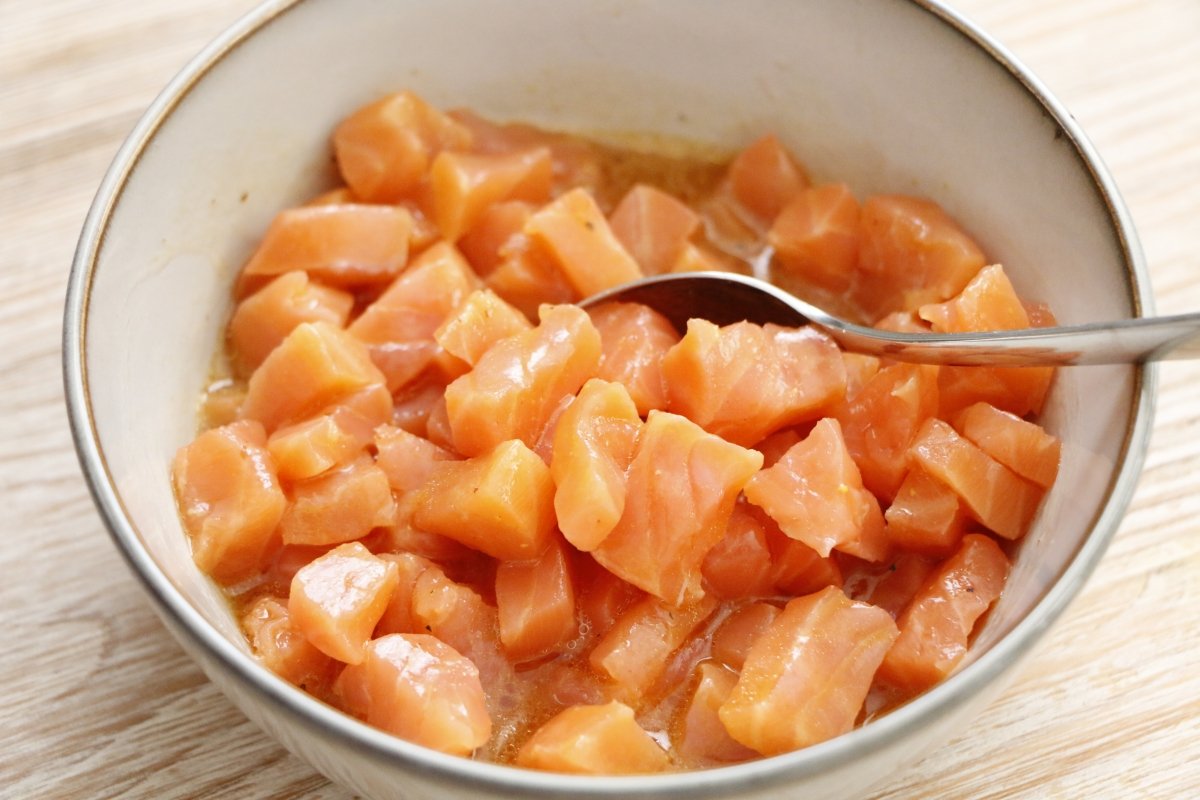 With the help of a small ring mold, assemble each tartare as follows: cover the bottom of the ring with half of the avocado.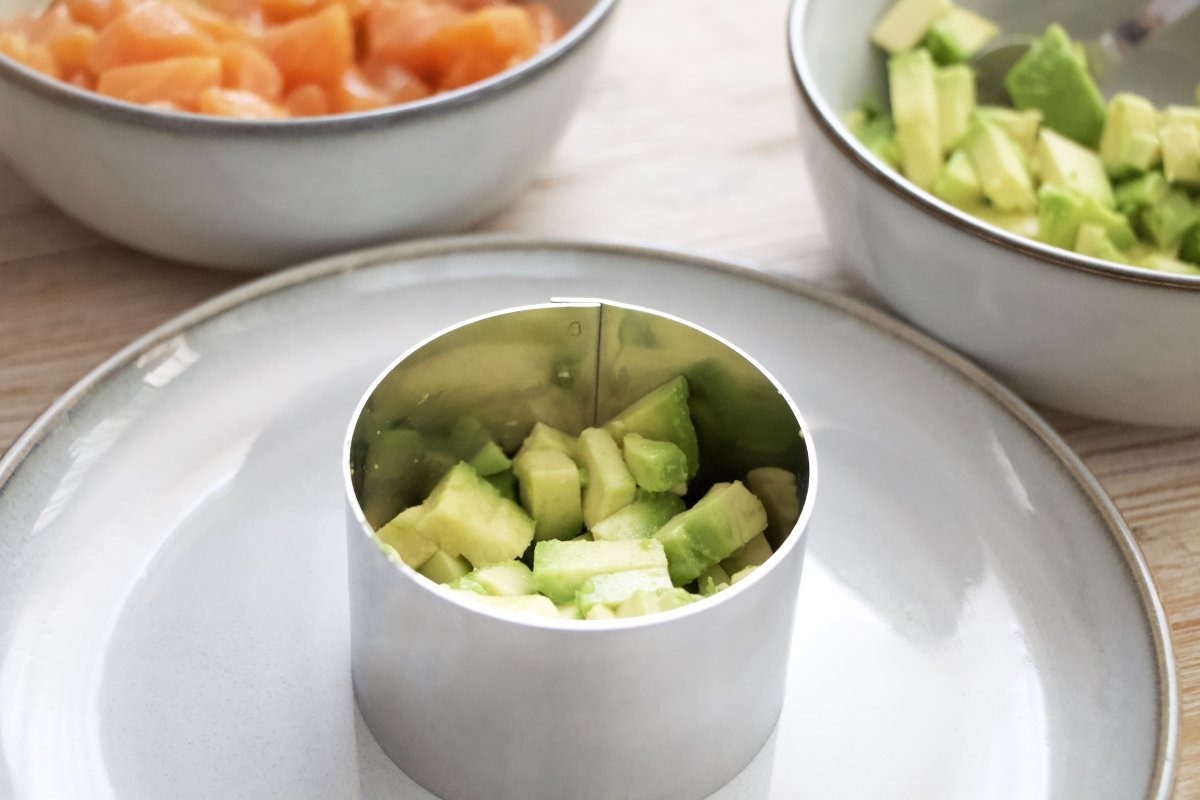 Next, place half of the smoked salmon mixture on top of the avocado. Repeat these steps to assemble a second tartare.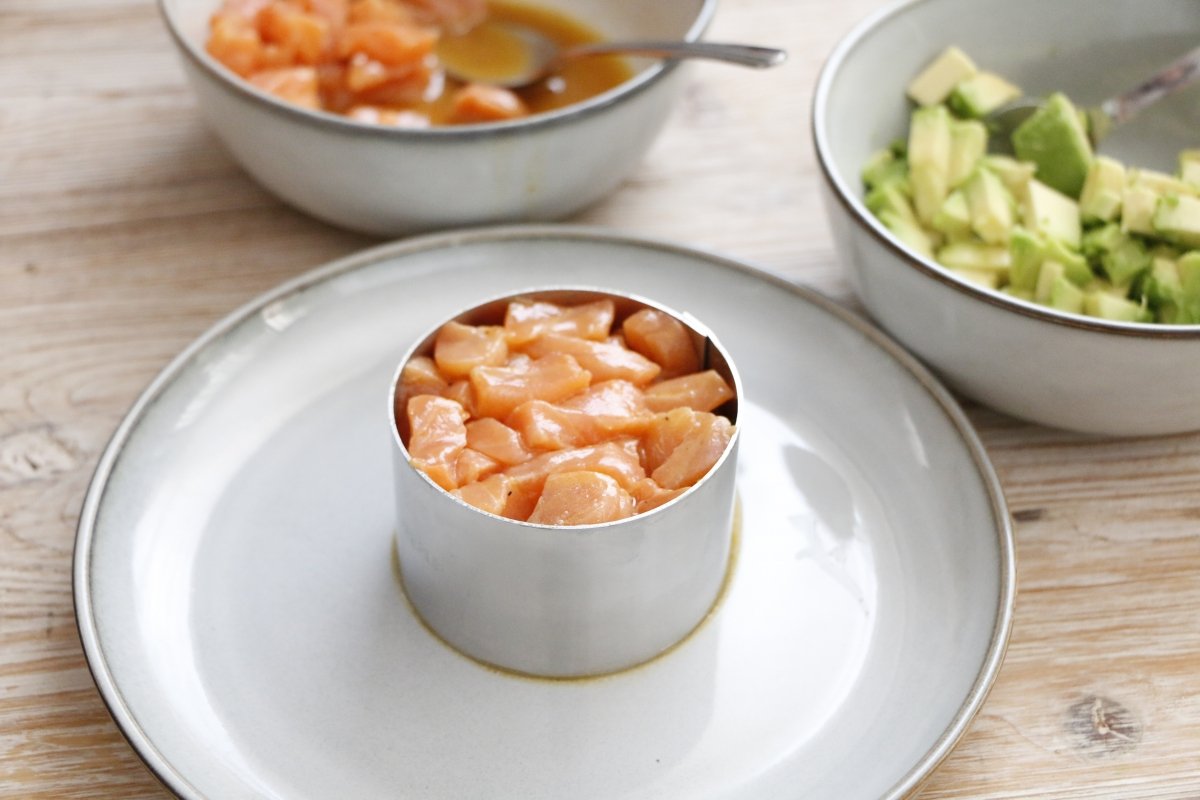 If you do not have a ring mold, you can serve each tartare in a glass or cup, or make several smaller portions on biscotti, appetizer spoons or in shot glasses.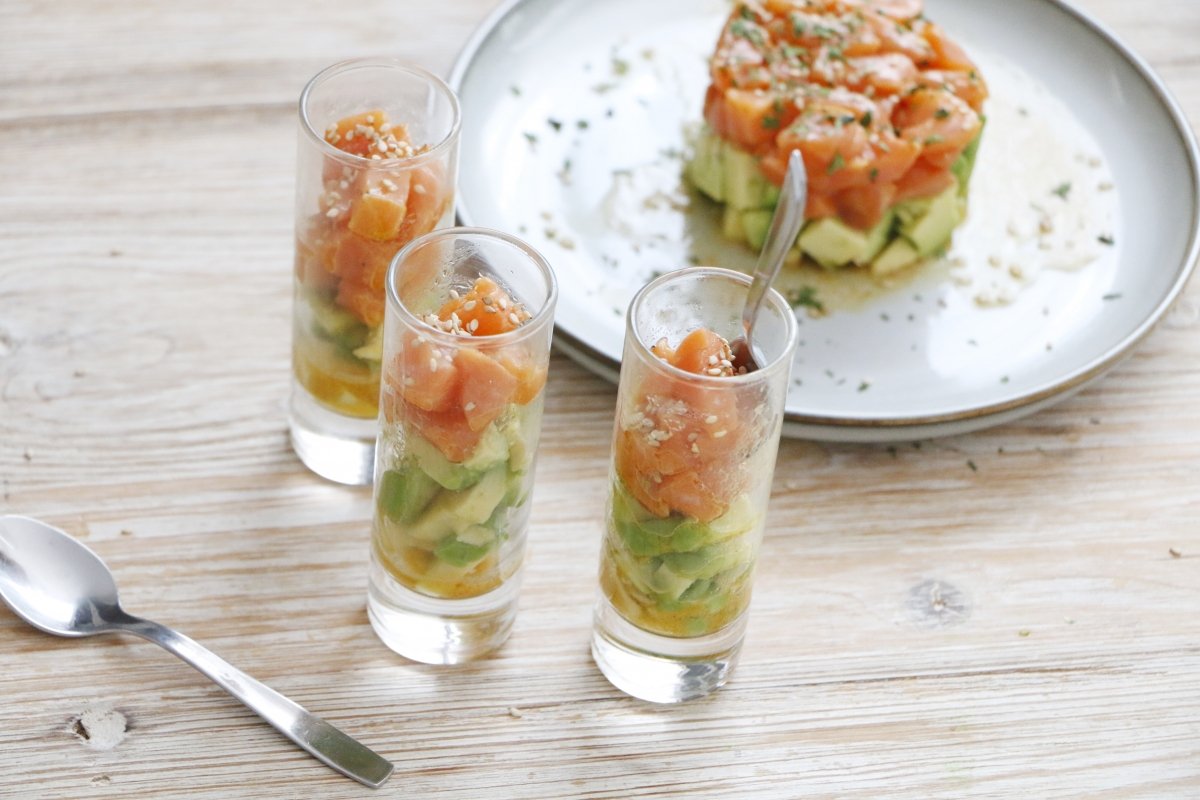 Garnish the tartare with dry coriander, chives, sesame seeds or any other ingredient of your choice and serve immediately or keep in the refrigerator until ready to eat.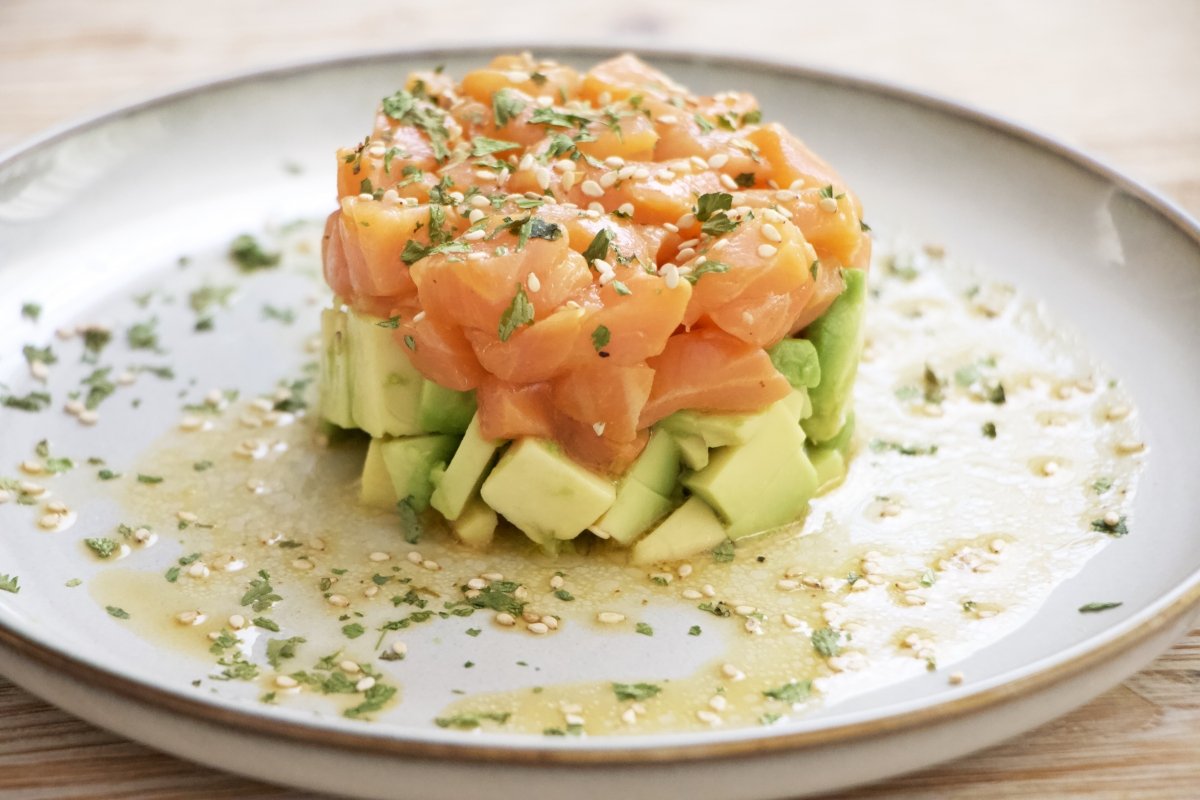 Easy instructions
Cut the smoked salmon and avocado into dices
Mix and integrate all the liquids and add the black pepper
Add the dressing from the previous step to the salmon
Assemble each tartare by placing half of the avocado in the bottom of a ring mold
Place half of the dressed salmon on the avocado and repeat to assemble the other tartare
The tartare can also be served in a glass or cup, or in small portions as an appetizer
Garnish as desired