Chicken Döner Kebab
Do you want to learn how to prepare a homemade chicken kebab? Keep reading and discover our recipe which, besides being simple and delicious, is quite practical and does not require any special utensils. We also show you how to make a doner or dürüm version.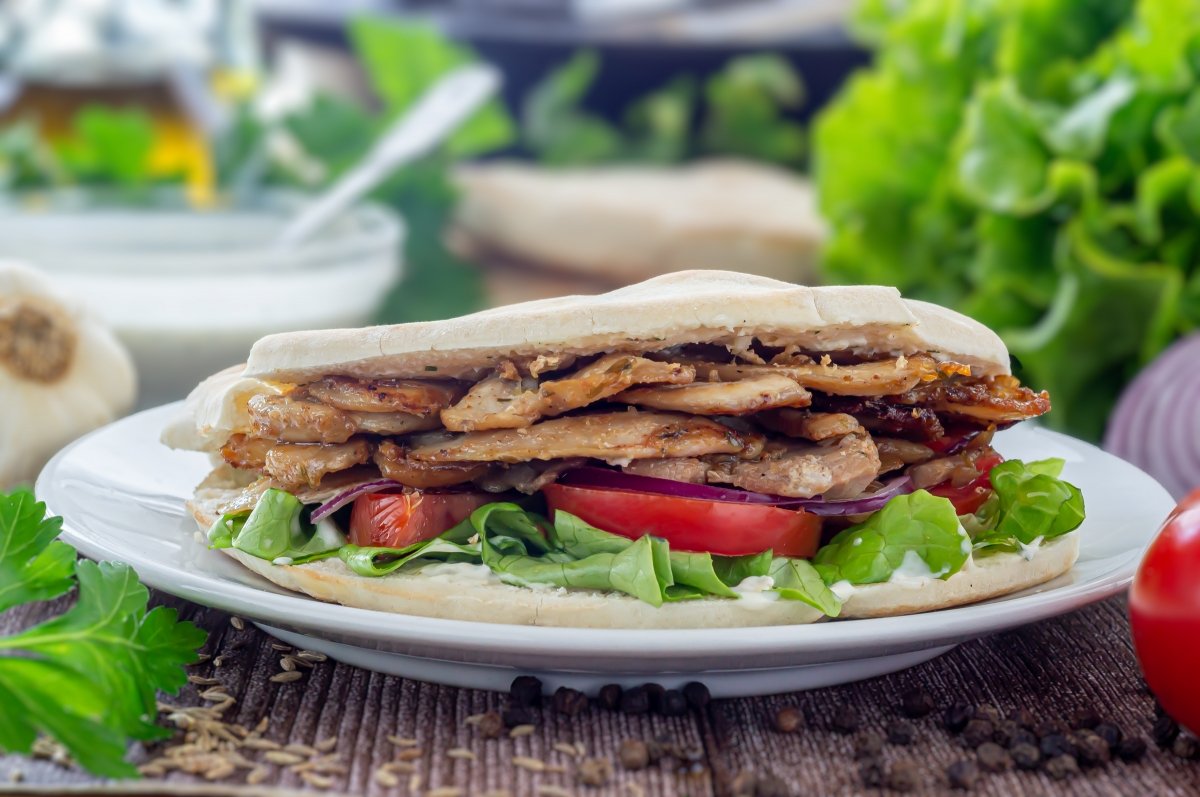 Such is the success and fame that precedes it that it is practically impossible not to have heard of a kebab by now, or shawarma as it is also known in some countries. For several decades, in practically every city we have been able to find small restaurants specialized in this street food that comes from the Middle East. And they are rarely empty.
Although the term kebab can encompass different preparations, the common element in all of them is that they are dishes where the main ingredient consists of marinated and grilled meat, traditionally lamb, although it can also be prepared with several different meats such as beef, pork (outside Muslim countries) or chicken. A chicken kebab is precisely what we are going to prepare in this recipe.
What comes to mind when we hear the word kebab is undoubtedly the large skewers of meat that revolve around a vertical stove. That is the so-called doner kebab, which literally means rotating meat and is commonly served in pita bread. It can also be served wrapped in a flatbread and is called dürüm kebab. Today we show you how to prepare both versions.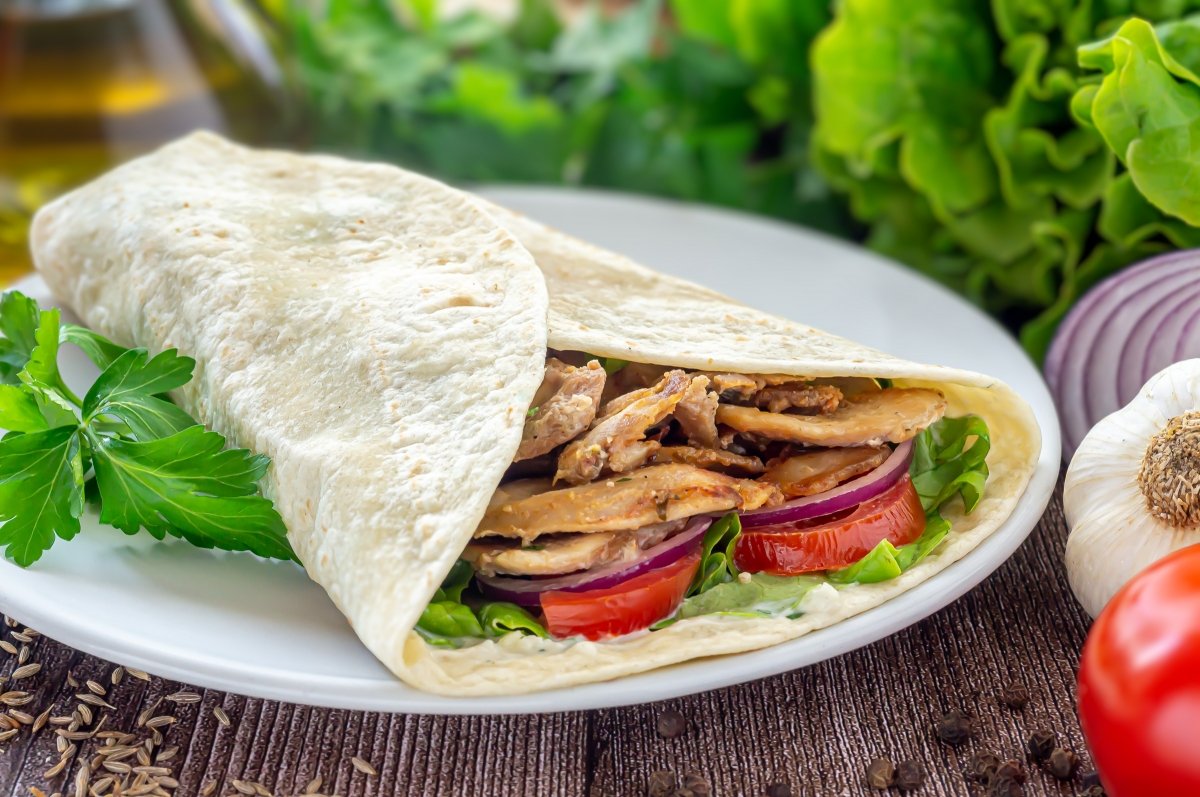 Damián Serrano
The biggest challenge when cooking a kebab at home is to achieve the effect of vertical roasting and thin slicing without the need for special utensils. With the traditional skewer, each slice, no matter how thin, has a nicely browned grilled side and is therefore full of flavor, which is partly what makes kebabs so tasty. It could be baked in the oven, although in this case, it ends up being cooked all at once, even the inside, so we would be losing that nuance that we just mentioned.
In order to achieve the desired effect without having to buy a special kebab oven, we are going to share with you a way to do it that has been popularized by the Turkish chef, Refika Birgül, and the truth is that the result is quite successful. You will be able to enjoy a kebab cut into thin slices where each one of them will have a well-browned side, as if it were grilled. You will be surprised how successful it is!
Recipe information
Preparation time: 10 minutes
Cooking time: 10 minutes
Total time: 20 minutesminutes (plus 24 hours of freezing)
Yield: 4 serves
Category: main course
Type of cuisine: Middle Eastern
Calories per serving (kcal): 643
Ingredients for Chicken Döner Kebab
Shawarma:
1 onion
¾ cup crushed tomato
¼ cup plain yogurt (unsweetened)
1¾ tablespoons butter (optional)
2 cloves garlic
2 tablespoons oregano
1 teaspoon cumin powder
1 teaspoon ground black pepper
1 teaspoon salt
6 boneless and, optionally, skinless chicken thighs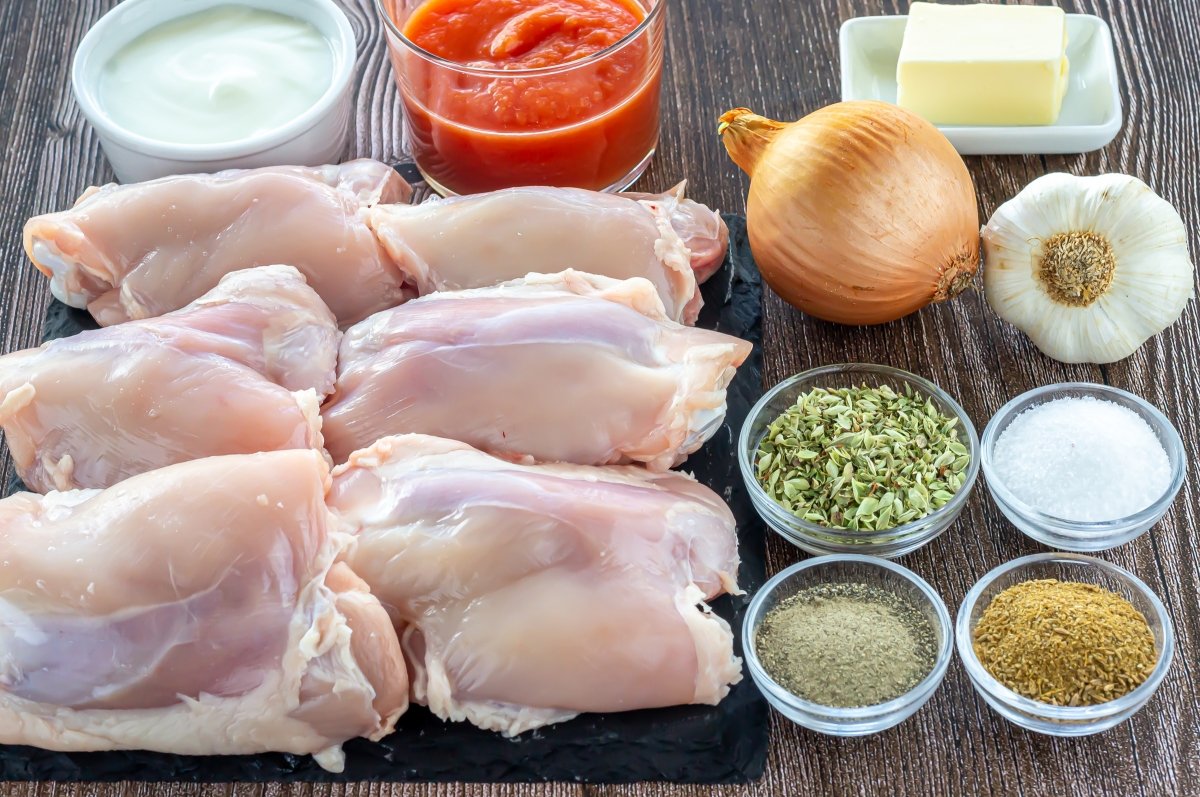 Damián Serrano
Sauce:
2 plain unsweetened yogurts
2 tablespoons mayonnaise
1 clove garlic
2 tablespoons olive oil
Fresh parsley
Ground cumin to taste
Ground black pepper to taste
Salt to taste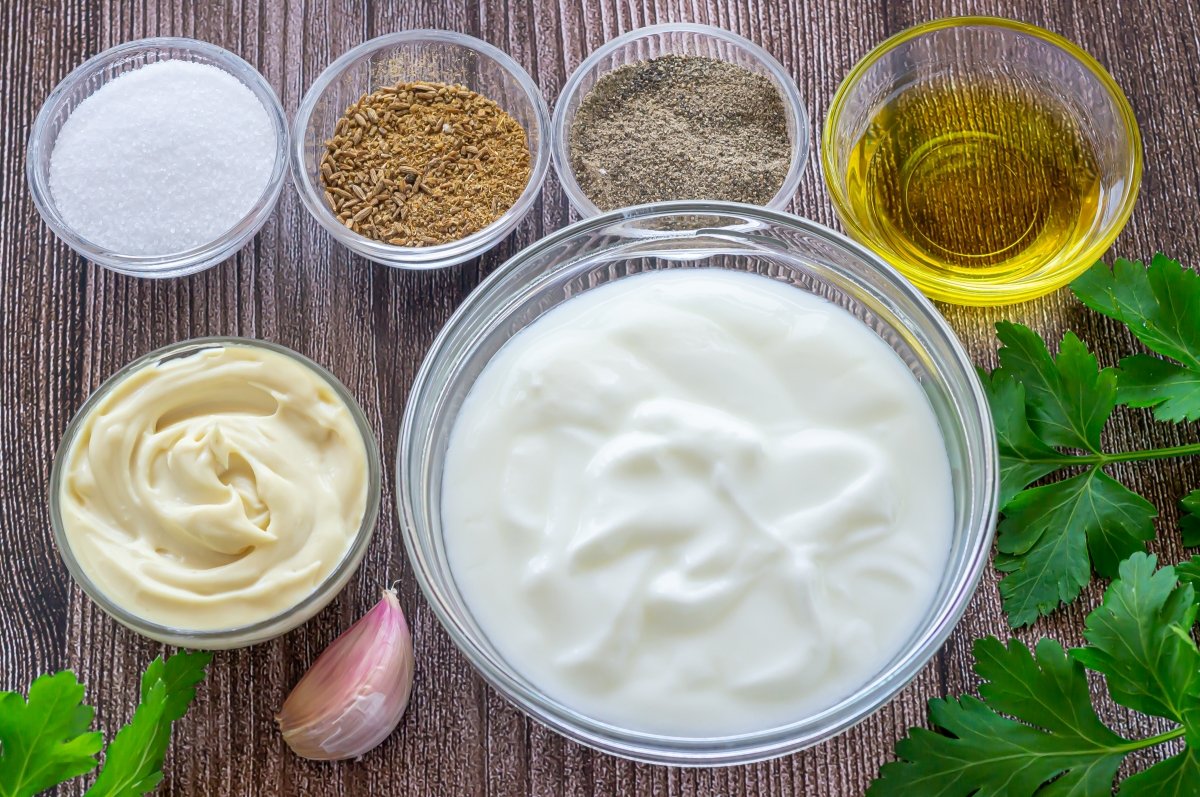 Damián Serrano
To assemble:
Kebab (meat)
16 slices of tomato
Lettuce
1 red onion
Olive oil (to grease the frying pan)
4 pita bread or 4 flatbreads for wrapping
The sauce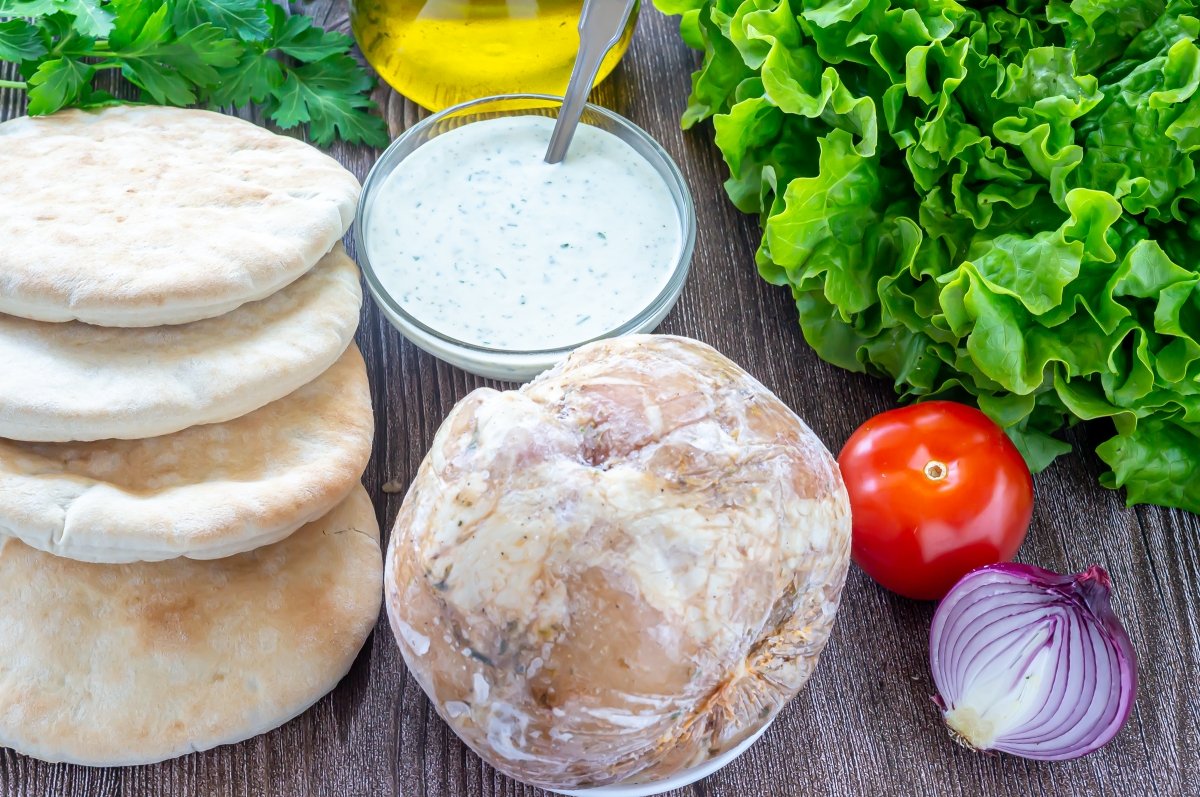 Damián Serrano
How to make Chicken Döner Kebab
Let's start preparing the kebab with the marinade. Here use the juice of 1 onion and to obtain it we will proceed as follows. First peel 1 onion and cut it into quarters, then chop it very finely with the corresponding attachment of your blender or food processor. Then, strain the onion through a strainer to extract its juice.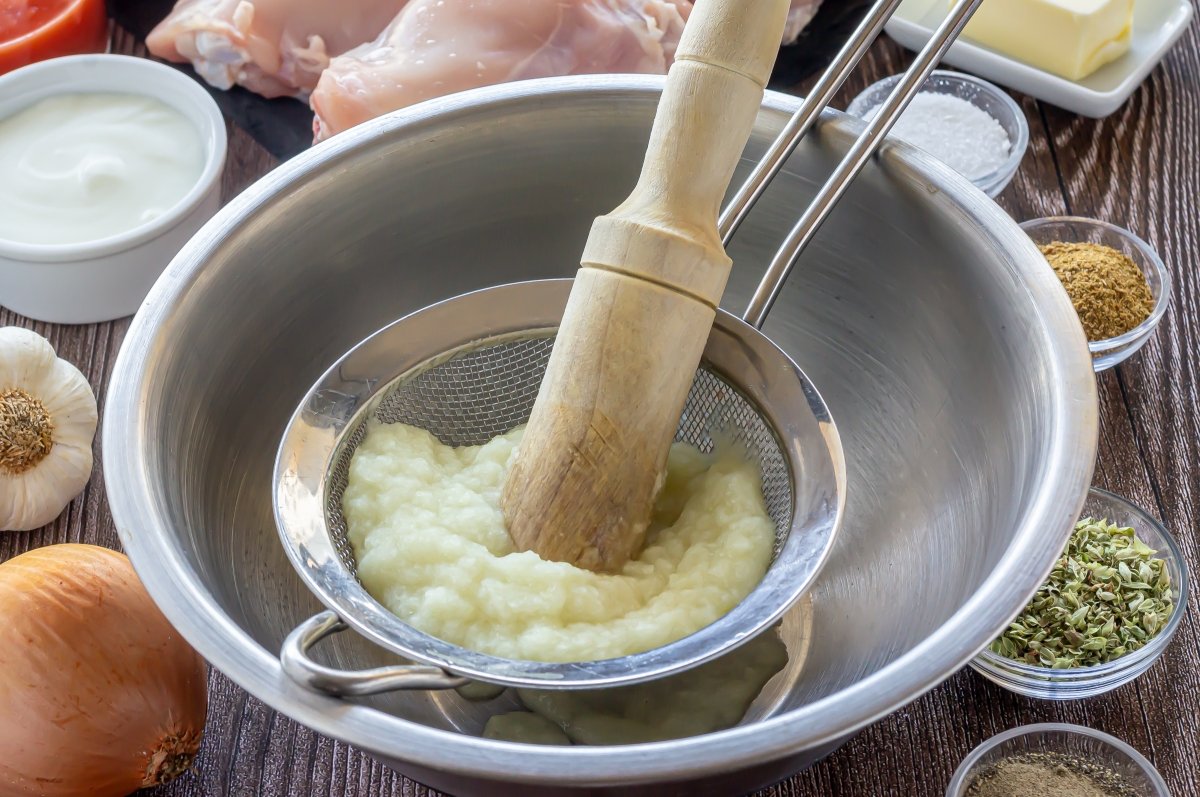 Damián Serrano
Once you have the onion juice, transfer it to a large bowl and mix it with ¾ cup of crushed tomato, ¼ cup of plain unsweetened yogurt, 1¾ tablespoons of melted butter (if the chicken is skinless), 2 cloves of garlic well crushed to a paste, 2 tablespoons of oregano, 1 teaspoon of ground cumin, 1 teaspoon of ground black pepper and 1 teaspoon of salt.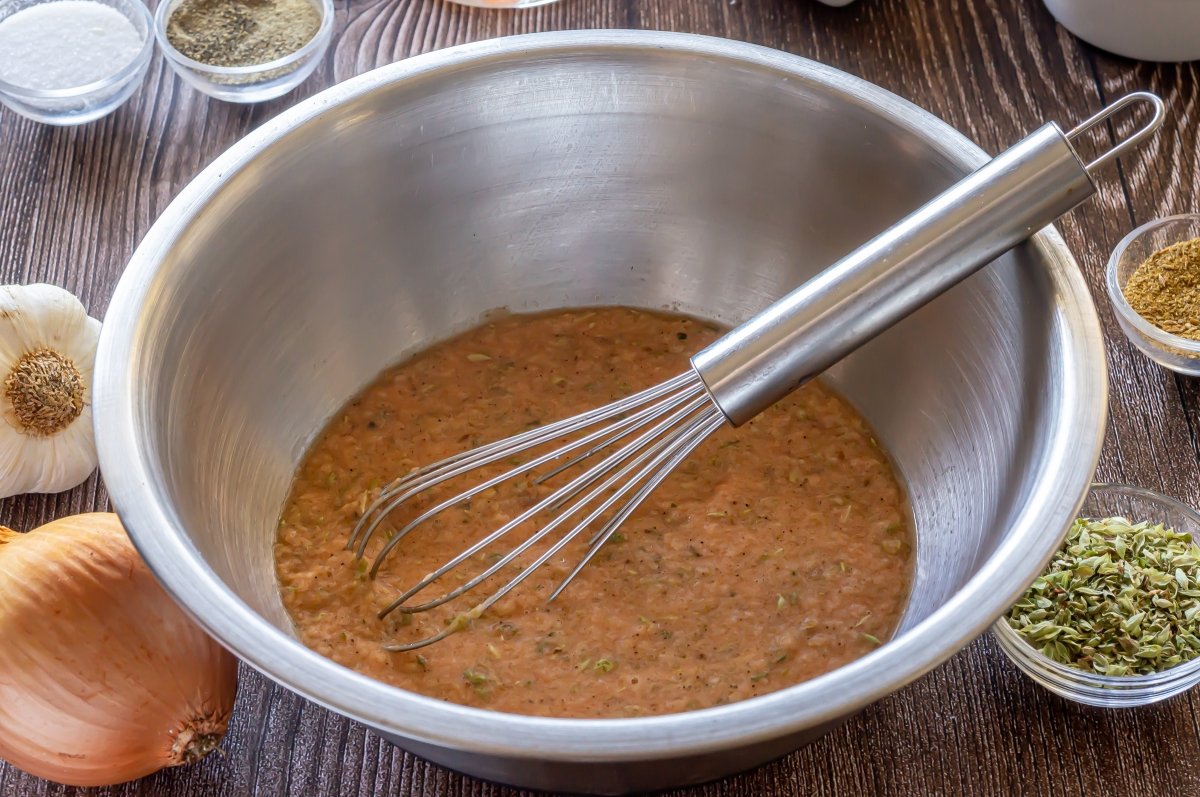 Damián Serrano
In this marinade toss in 6 boneless chicken thighs. You can use them with skin or skinless. In this case, as we have opted for skin-on thighs, we will not use butter in the marinade, as the fat contained in the skin will be enough. Coat the chicken pieces thoroughly and let them marinate for about 2 hours.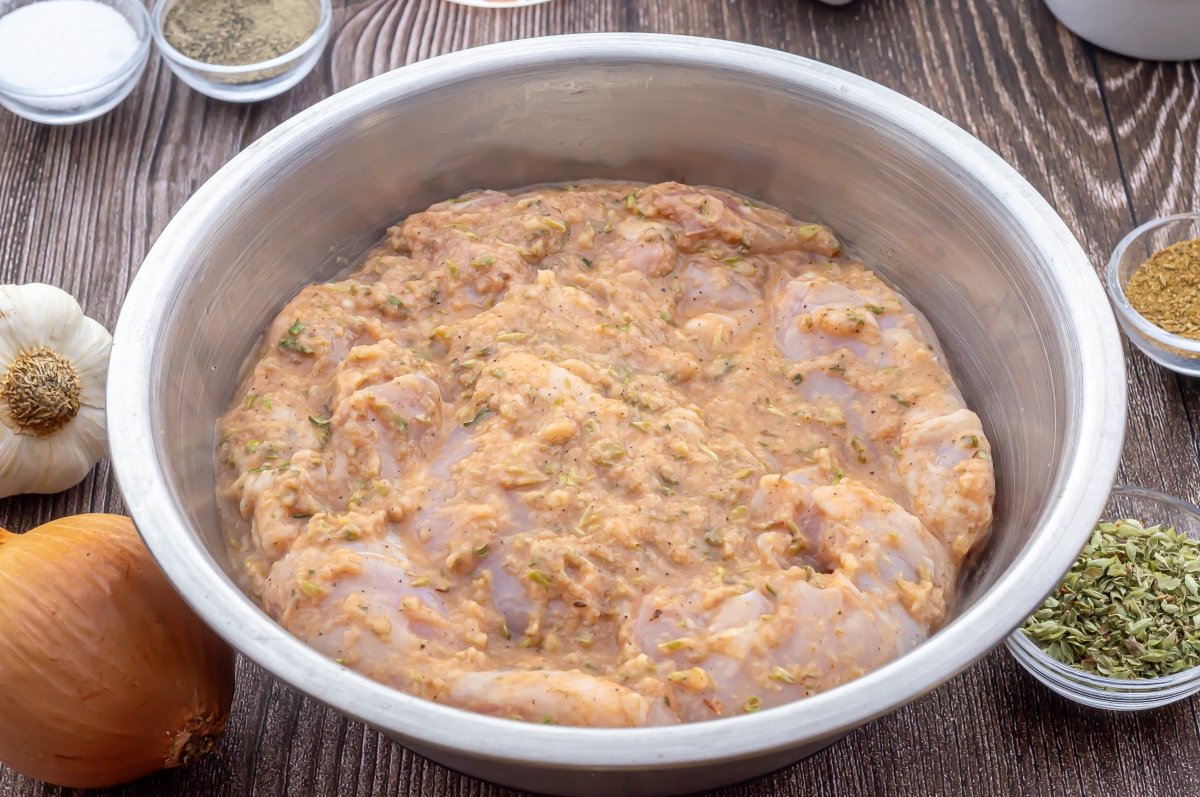 Damián Serrano
After this time, spread a plastic wrap or tough baking paper on the countertop and arrange the thighs in three layers, as shown in the picture.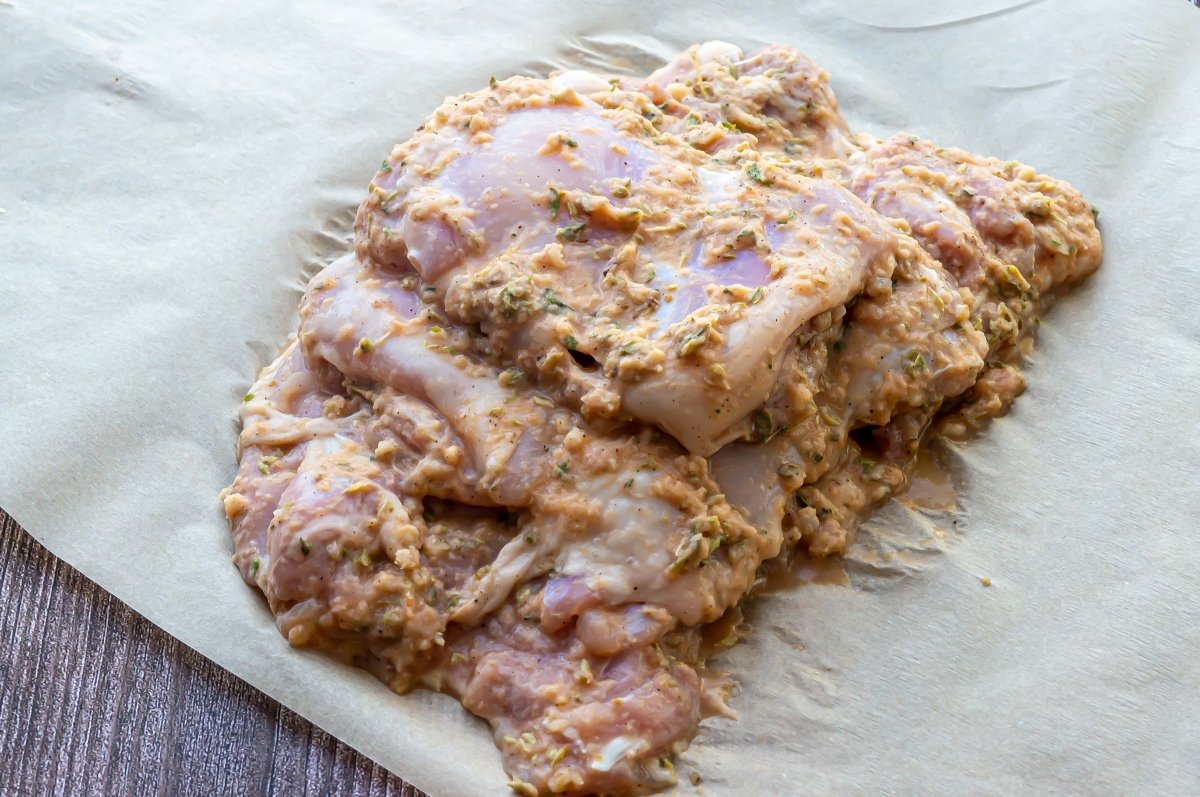 Damián Serrano
Now it is time to form a roll with the chicken. It must be very tight, so it is advisable to hold the ends tightly and roll it on the countertop to compact the meat. Once this is done, secure the ends with a knot or clothes pins and let it chill in the freezer until the next day.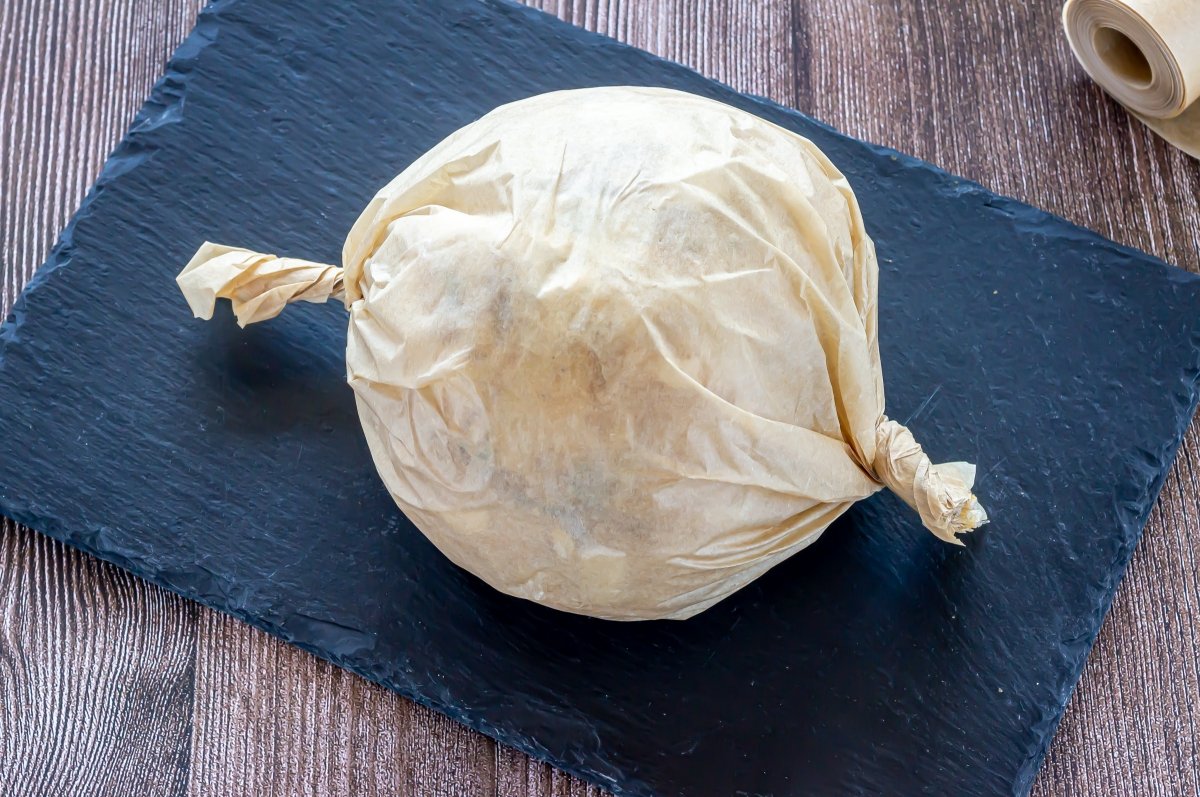 Damián Serrano
To prepare the kebab sauce just combine all the ingredients: in a bowl mix 2 plain unsweetened yogurts with 2 tablespoons of mayonnaise, 1 crushed garlic clove and 2 tablespoons of olive oil. Season to taste with finely chopped parsley, ground cumin, ground black pepper and salt.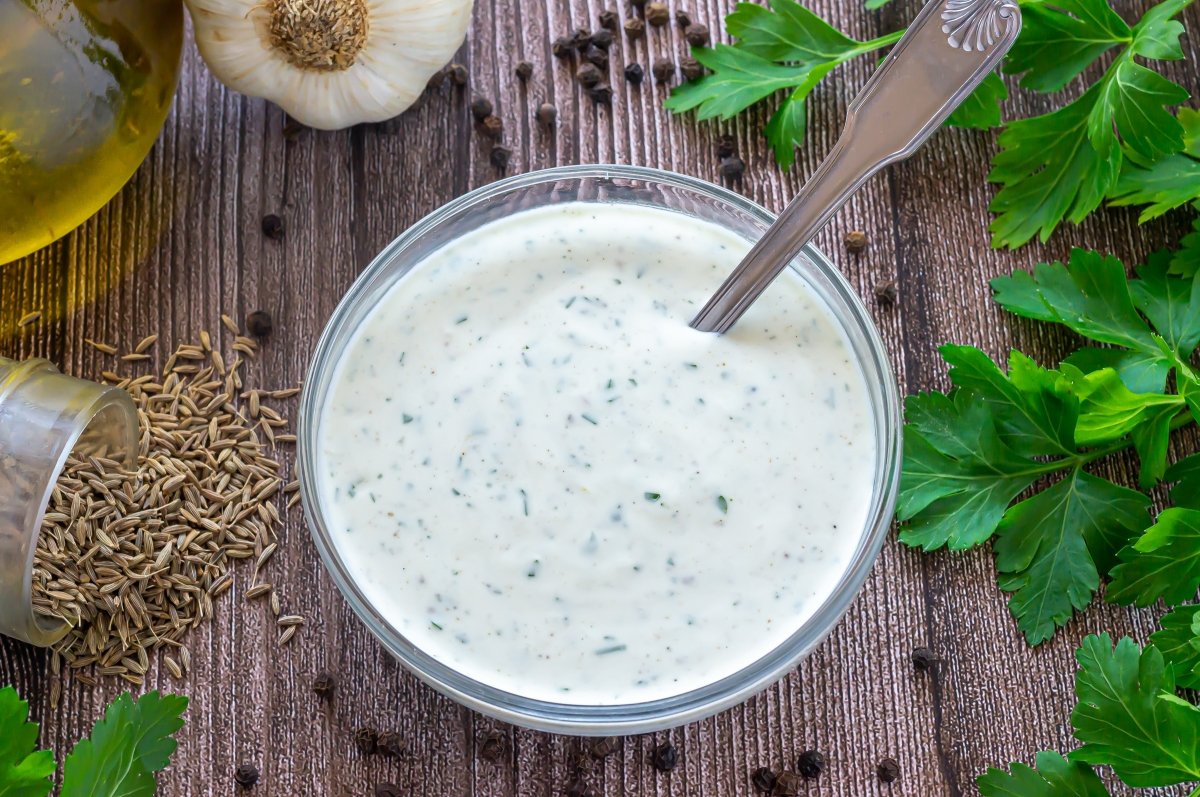 Damián Serrano
Once you are about to prepare your kebabs, take the meat out of the freezer, unroll it and, protecting your hand from the cold with a clean kitchen towel, hold the roll tightly. With a sharp knife start cutting thin slices of frozen meat. Cut some slices of tomato, so that you get about 4 for each serving, that is to say, 16 slices in total for the 4 servings, 1 handful of lettuce cut into thin strips and some red onion also in thin strips.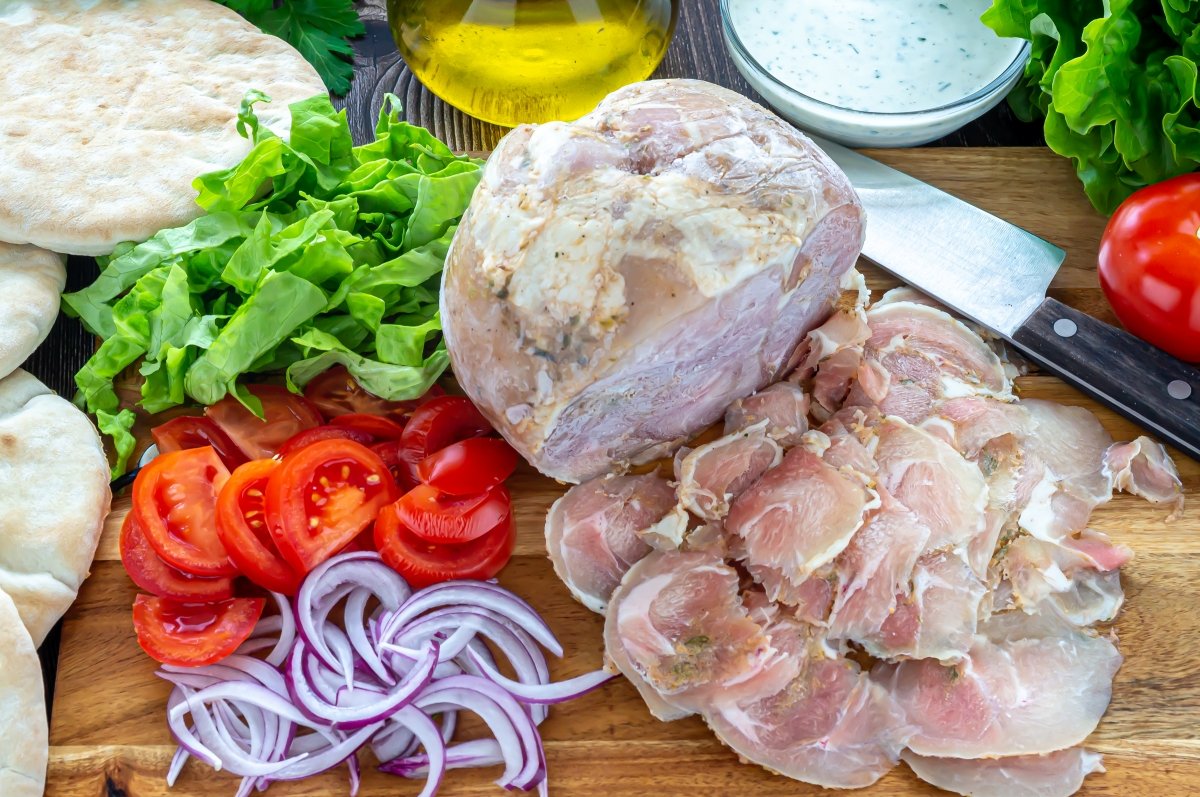 Damián Serrano
To cook the meat, grease a large frying pan with a little olive oil and heat over a high heat. Once it is very hot, but not smoking, arrange the slices of meat in a single layer, which should have been cut according to the previous step, and brown them until cooked through. It will most likely take several batches to brown them all. As soon as you take them out of the pan, reserve them covered so that the meat does not cool down. You can use several pans to do this step at the same time, which will take less time.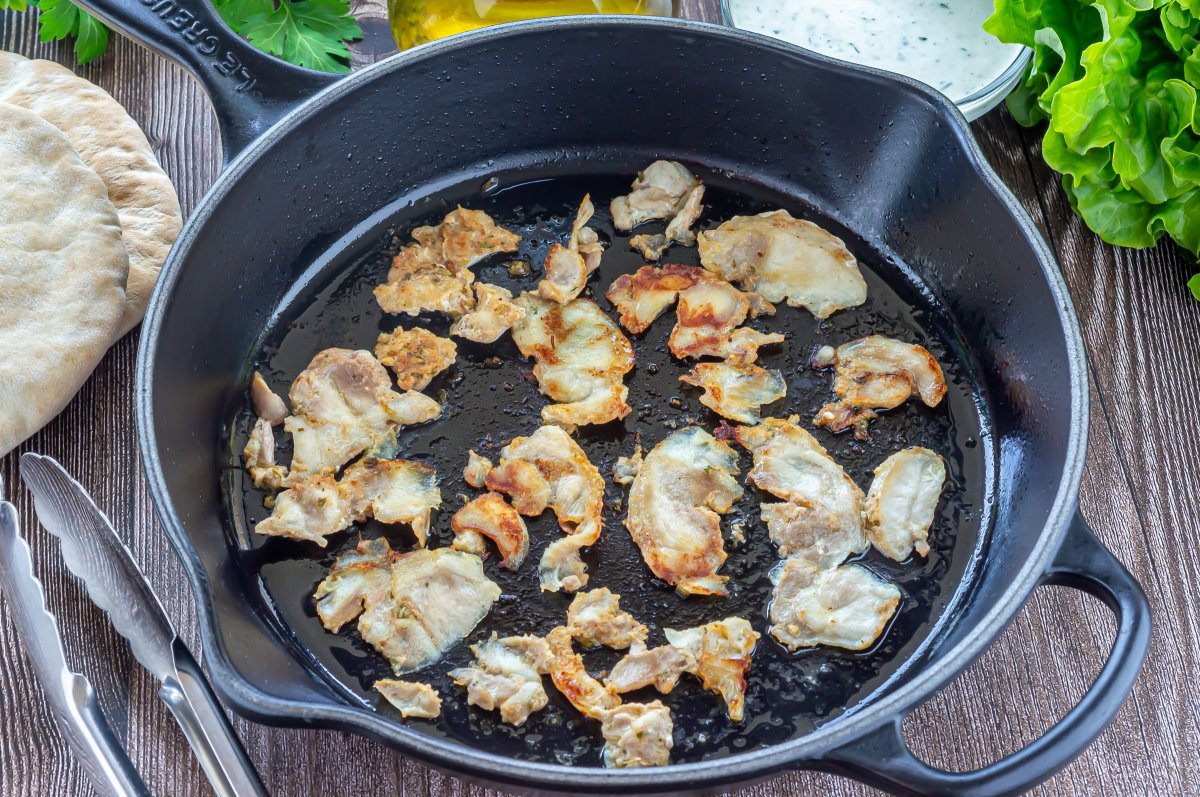 Damián Serrano
With the meat already cooked, the only thing left to do is to fill the bread according to your preference. To make the classic döner kebab take 1 pita bread per portion and open it in half. Spread both inner sides with the sauce and put lettuce, tomato and onion on the base.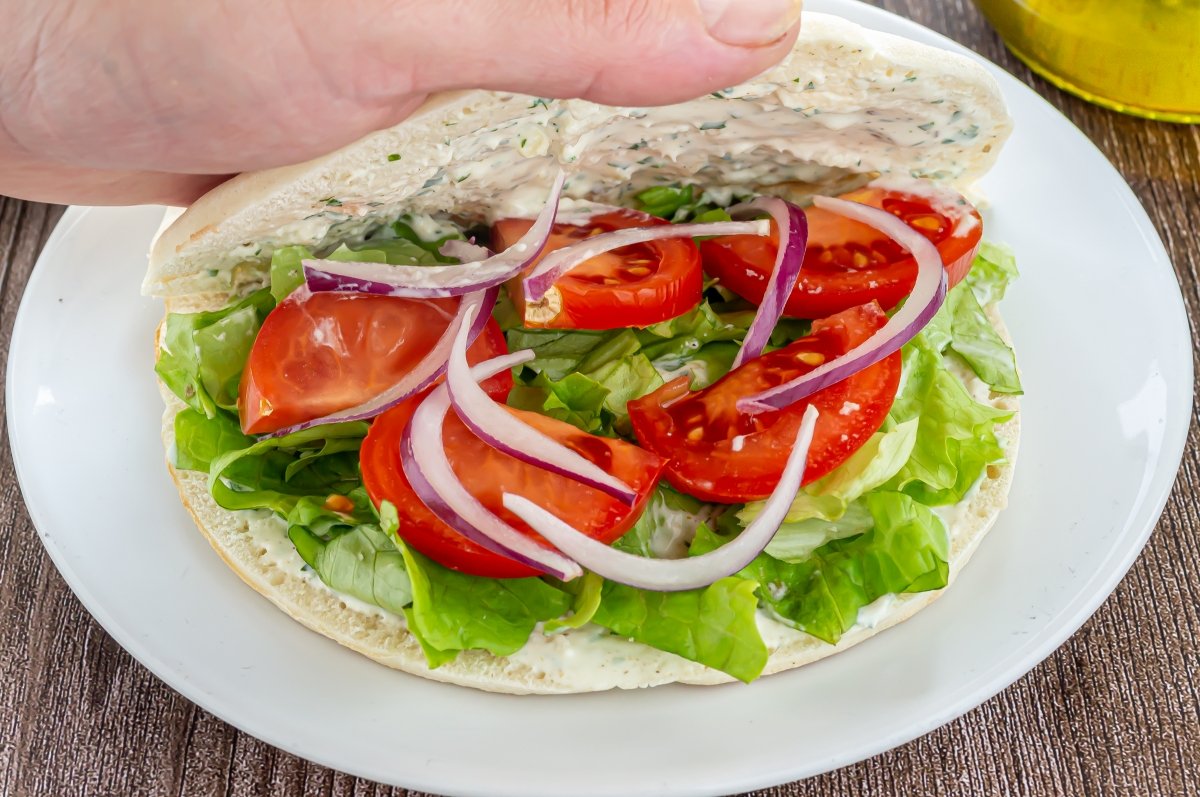 Damián Serrano
Finally, put the meat on top and, if desired, more sauce to taste. The döner kebab is ready.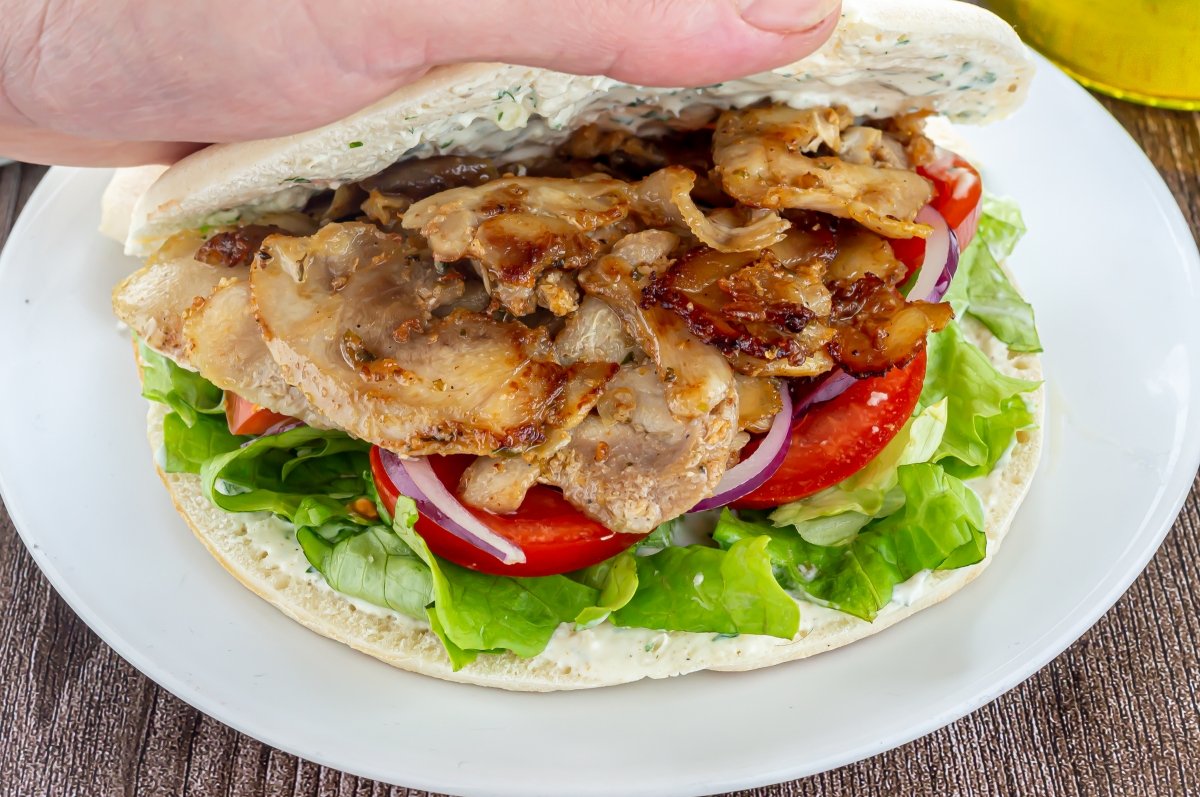 Damián Serrano
To make the dürüm kebab, in this case you need 1 flatbread wrap per portion. In a similar way, proceed to spreading the bread with the sauce and then put a layer of lettuce, tomato and onion to taste.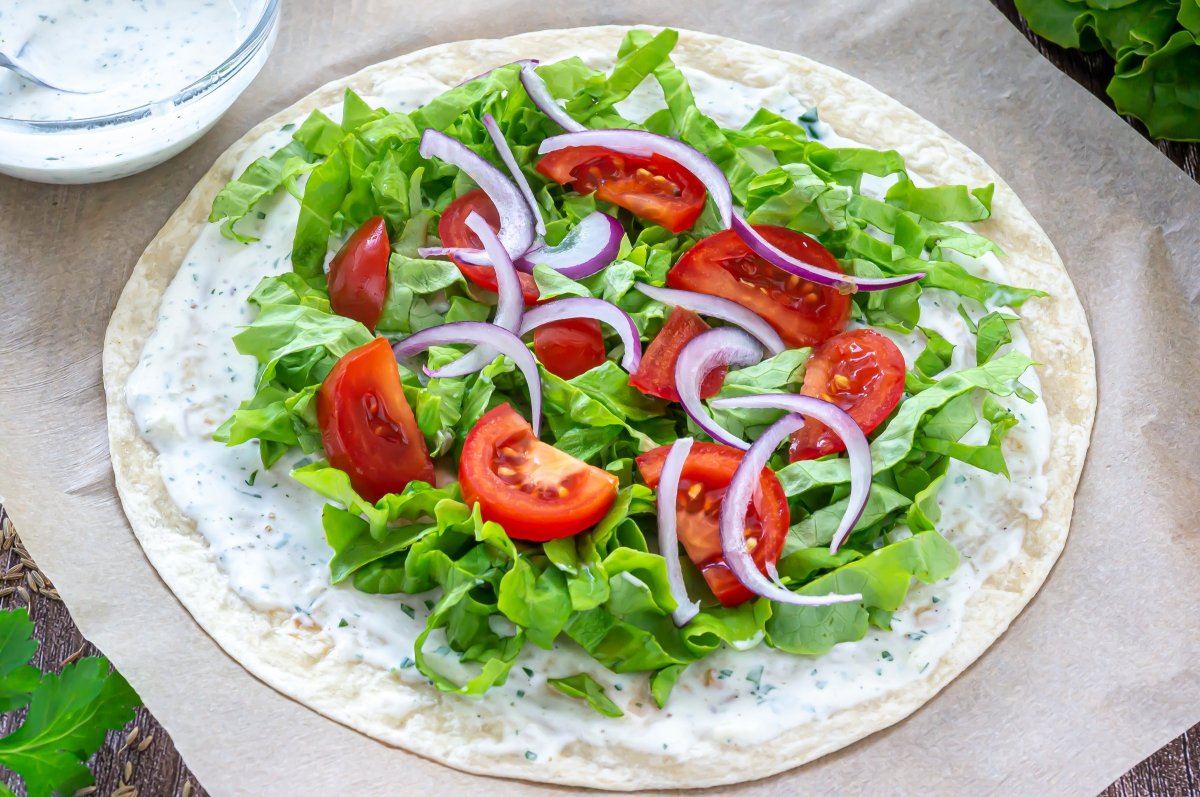 Damián Serrano
Finish by placing the meat on top and roll it up, closing at least one of the ends first.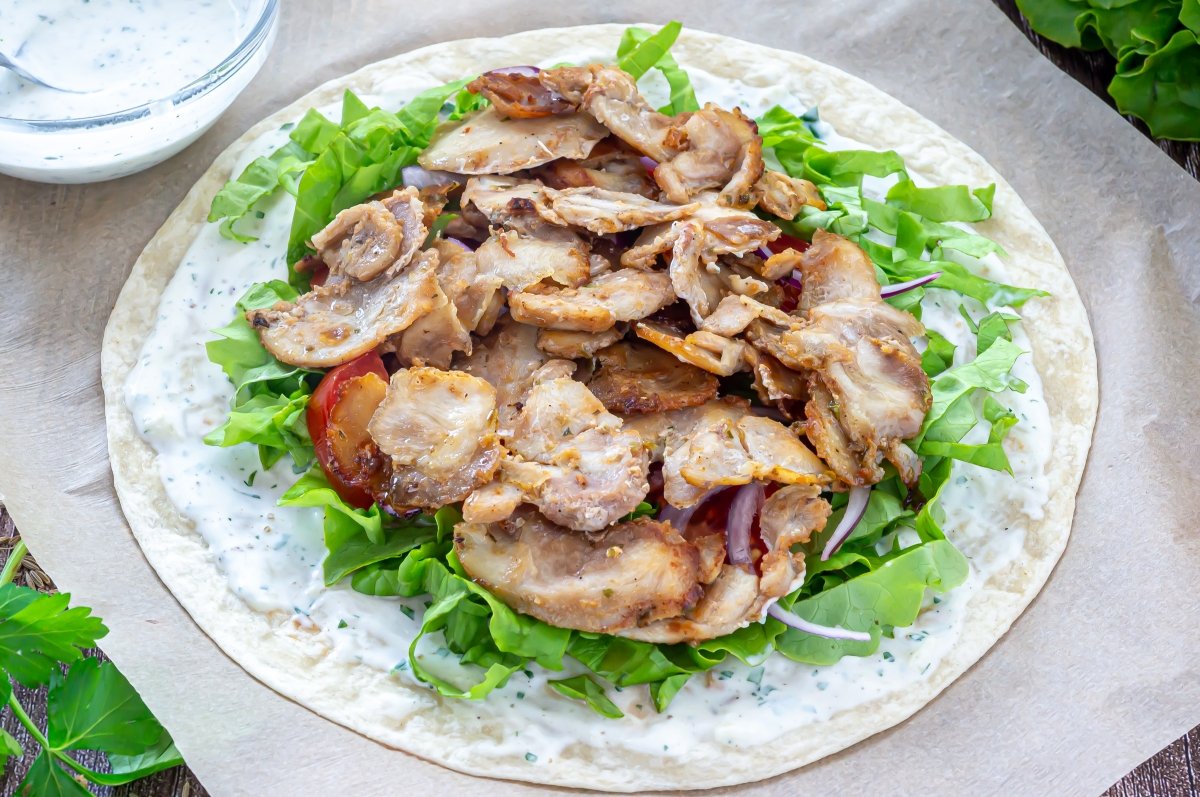 Damián Serrano
Easy instructions
Chop the onion with a food processor or mincer and strain it through a strainer to extract the juice
Mix the onion juice with the tomato, yogurt, melted butter (if the chicken is skinless), crushed garlic cloves, oregano, cumin, pepper and salt
Marinate the chicken in the mixture for 2 hours
Arrange the chicken in layers on a plastic wrap or baking paper
Roll it up like a candy and freeze overnight
Prepare the sauce by mixing the yogurt with the mayonnaise, crushed garlic, oil and seasoning to taste with chopped parsley, cumin, pepper and salt
Cut the meat, the tomato, the onion and lettuce into thin slices
Brown the meat in a frying pan greased with a little oil
To form the döner version, open the pita breads, spread the two inner sides with the sauce and fill with lettuce, tomato and onion
Finish with the meat and a little more sauce
To form the dürüm version, spread the wrapping flatbread with the sauce and put a layer of lettuce, tomato and onion
Finish with the meat, a little more sauce and roll it up