Potato Croquettes
Potato croquettes are a typical Italian recipe. The dough is made with boiled potatoes, egg yolk and Parmesan cheese, seasoned with black pepper and nutmeg, and then breaded and fried. It is a great dish as an appetizer or starter. It can be served with a sauce made with yogurt or mayonnaise, oregano, mint or basil.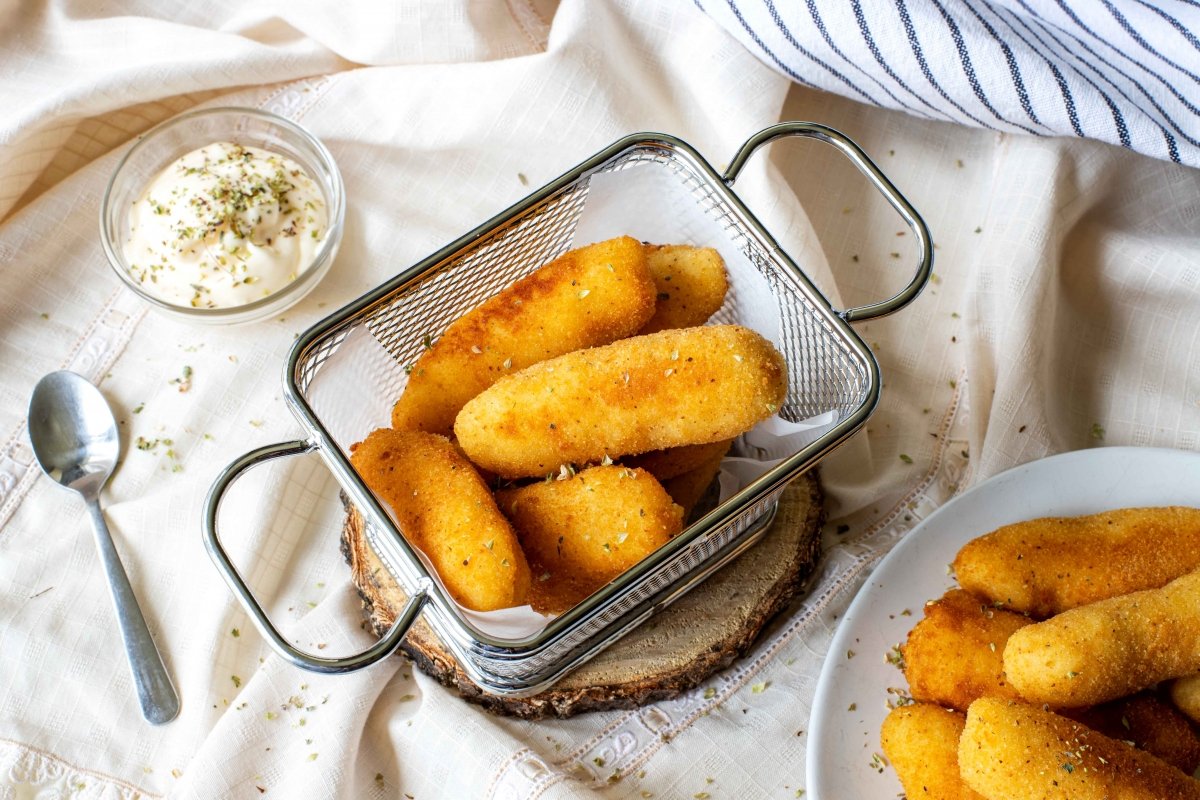 Potato croquettes or crocchette di patate are a traditional dish from Naples and Palermo. In Italy, it is one of the most typical street dishes alongside pizza, as it is very easy and quick to prepare. You can make the traditional potato croquettes or you can add some other ingredients, such as cooked ham cut into small dices.
The most important thing when making potato croquettes is to choose the right potatoes, which should have a mealy texture. You can buy the potatoes that you usually use for boiling or you can get the red ones, which are very mealy and also have a more intense potato flavor. The dough should be creamy but without falling apart and, according to the traditional recipe, the croquettes should have an elongated shape and, to bread them, you only need a beaten egg and breadcrumbs.
Recipe information
Preparation time : 20 minutes
Cooking time: 15 minutes
Total time: 35 minutes
Yield : 6 serves (24 croquettes)
Category: starter
Type of cuisine: italian
Calories per serving (kcal): 295
Ingredients for Potato Croquettes
1 pound mealy potatoes
1 yema de huevo
Salt to taste
Ground black pepper to taste
1 pinch of nutmeg
1 cup grated Parmesan cheese or Pecorino cheese
⅔ cup cooked ham, diced (optional)
1 egg (for breading)
1 cup breadcrumbs (for breading)
Plenty of sunflower oil or mild olive oil for frying
Aromatic herbs to taste: oregano, basil, mint...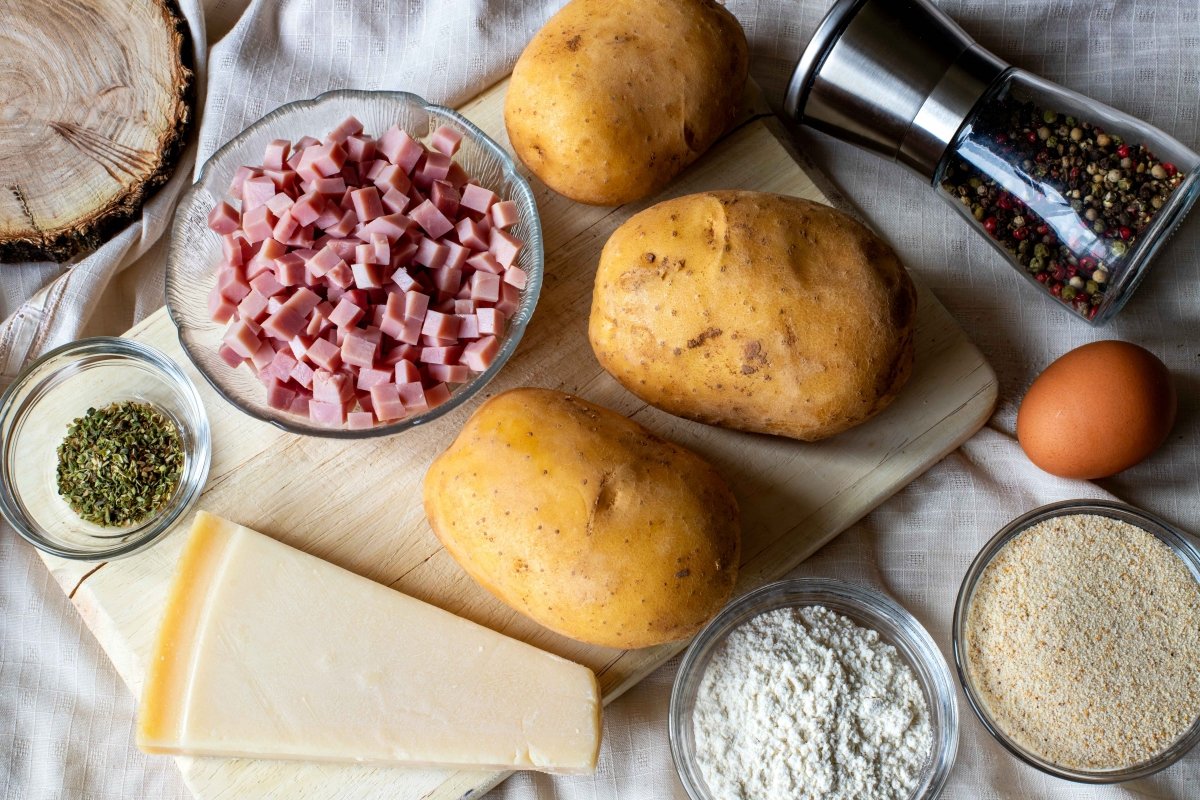 How to make Potato Croquettes
In order to prepare the potato croquettes the first thing you have to do is to thoroughly wash 1 pound of potatoes because you will be cooking them with skin on, you will not be peeling them.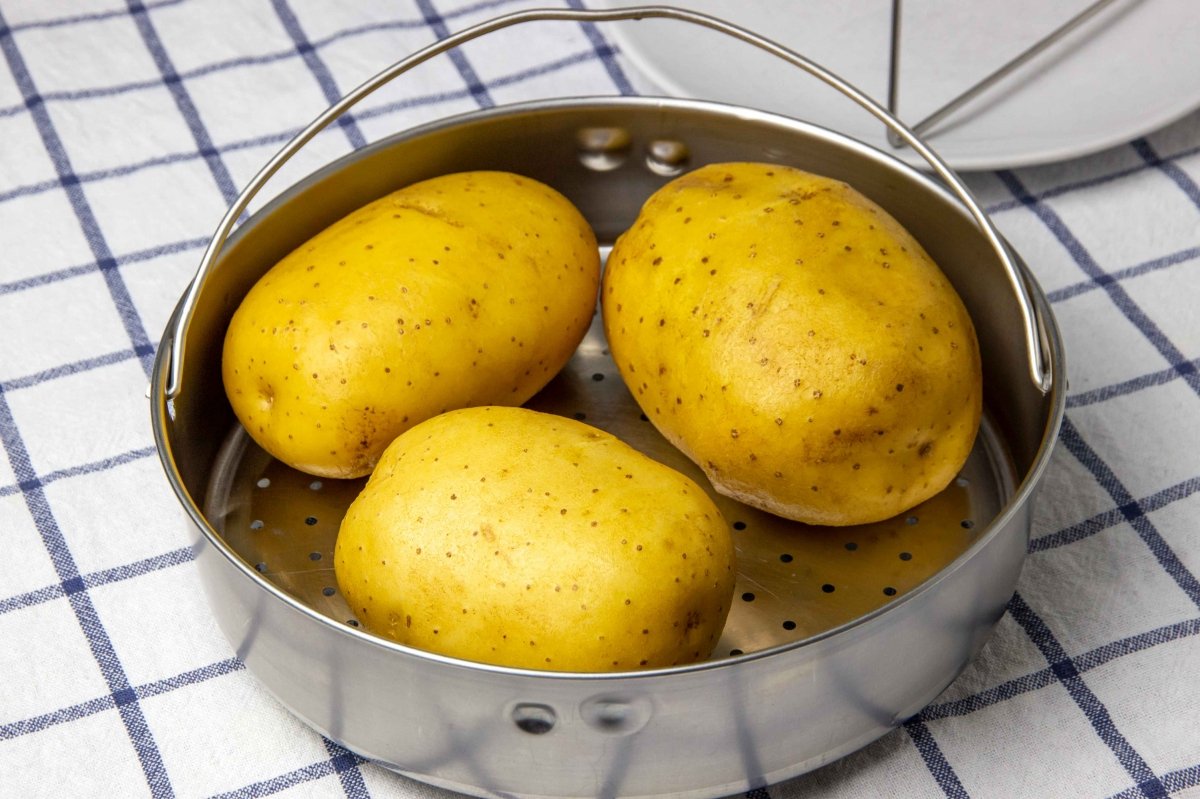 You can cook the potatoes in a pot with boiling water or in a pressure cooker. If you use a pot, the cooking time will depend on the size of the potatoes and the variety, but you can have them cooked in about 30 minutes. In any case, before the cooking time is over, check them by pricking one with a knife and make sure that you can pierce it without too much resistance. You can also cook the potatoes in a pressure cooker which takes very little time. In this case, they will be ready in about 10 minutes from the moment the valve goes up.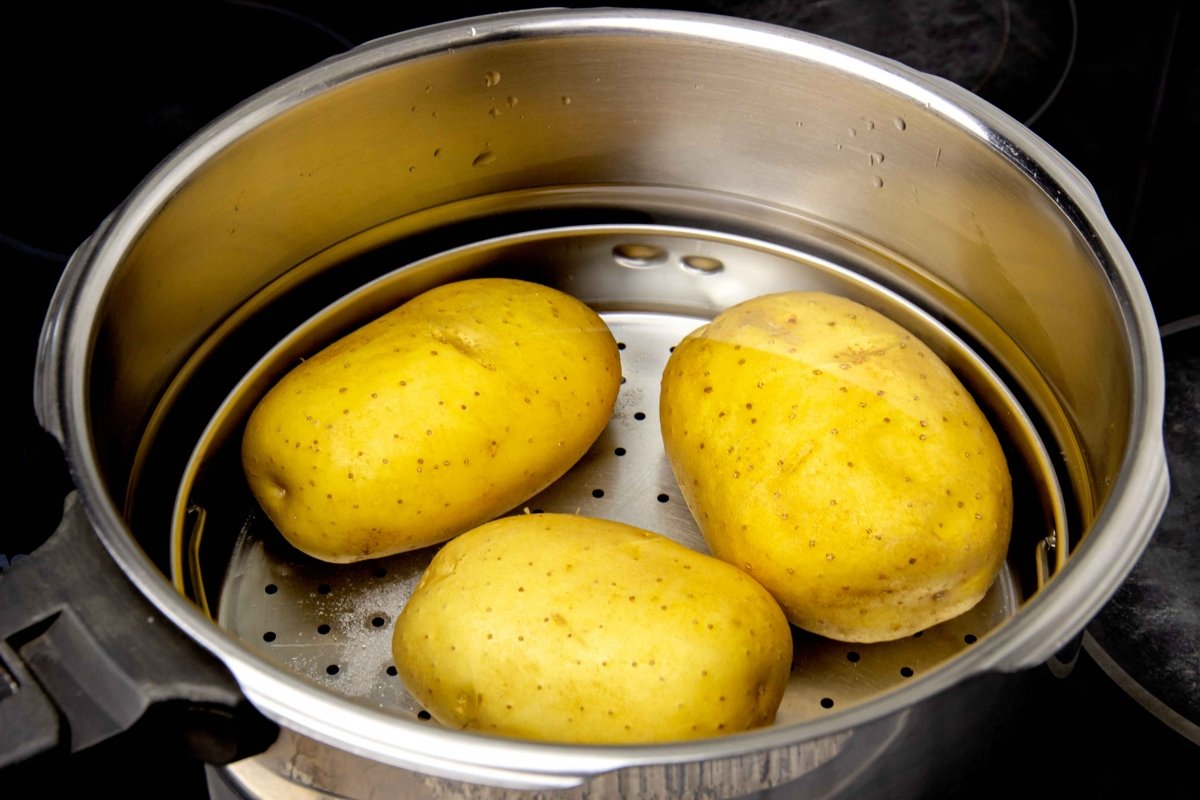 Once the potatoes are cooked, let them cool down for a little bit. Once you can handle them, peel them.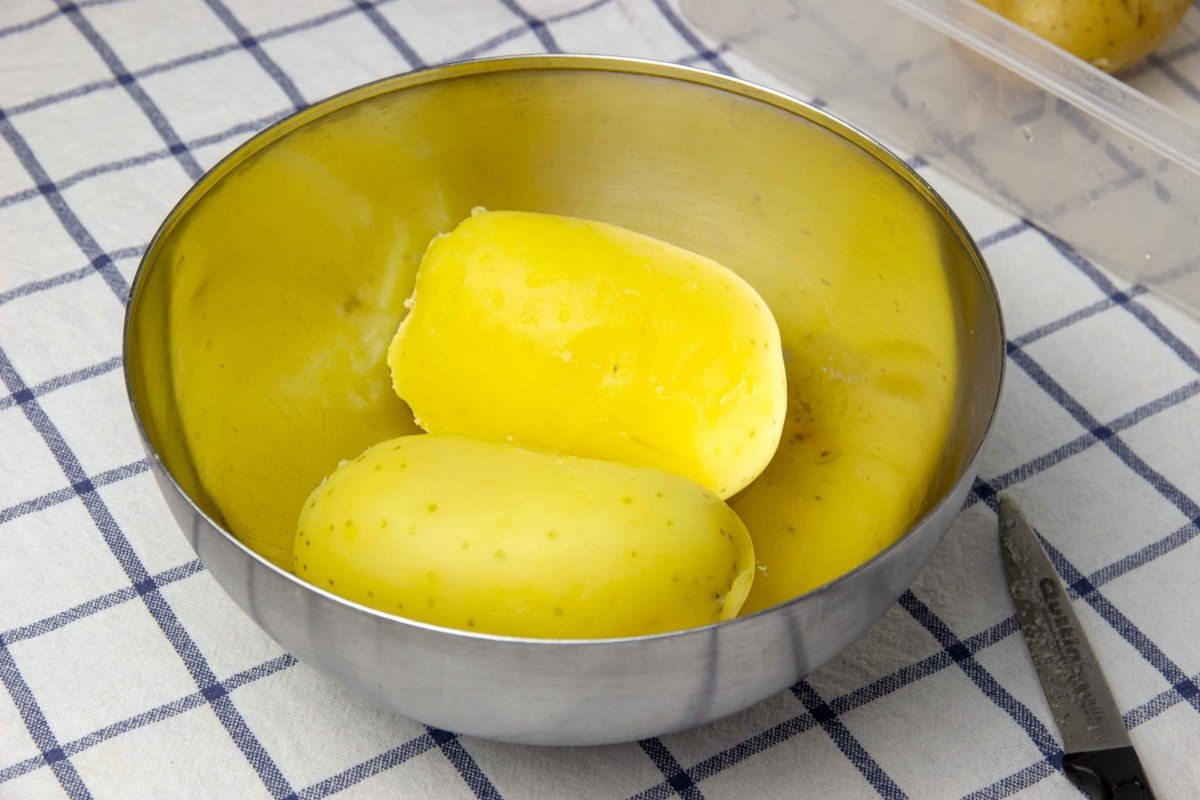 Put the peeled potatoes in a bowl and mash them with a potato masher or a fork. You can also grate them.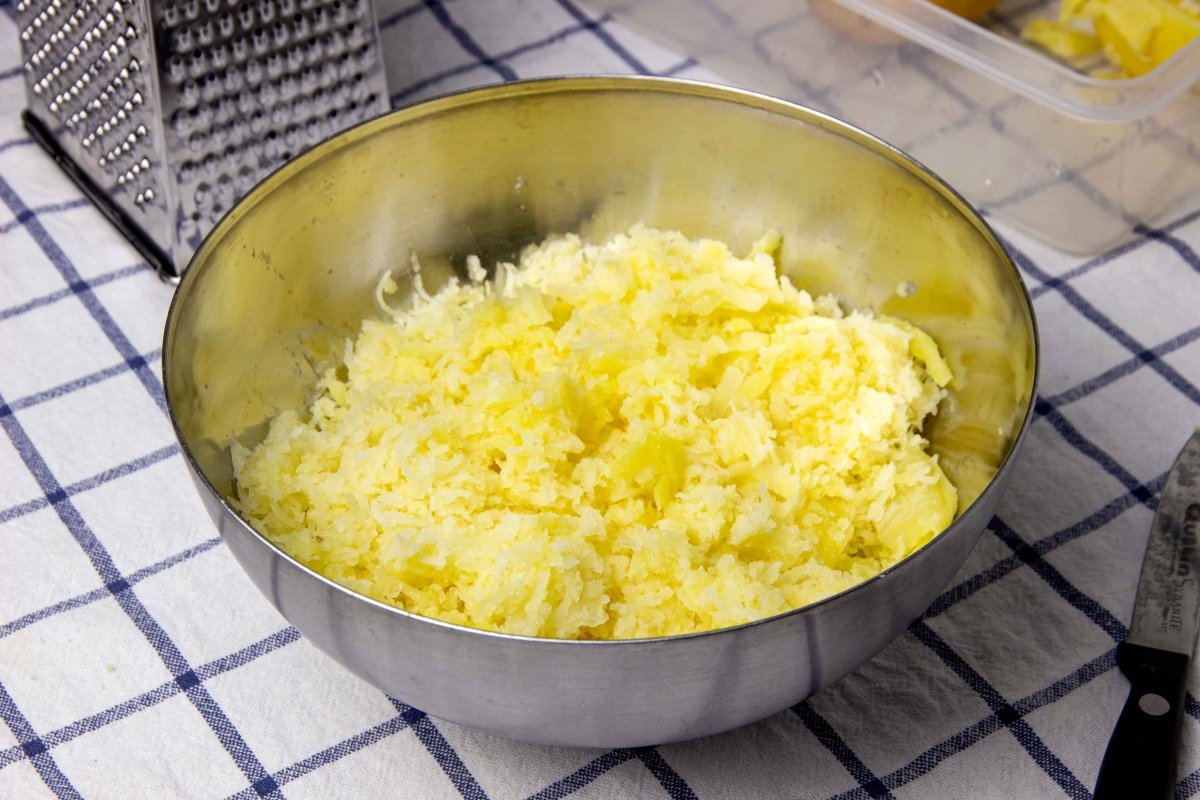 Add 1 egg yolk to the mashed or grated potatoes.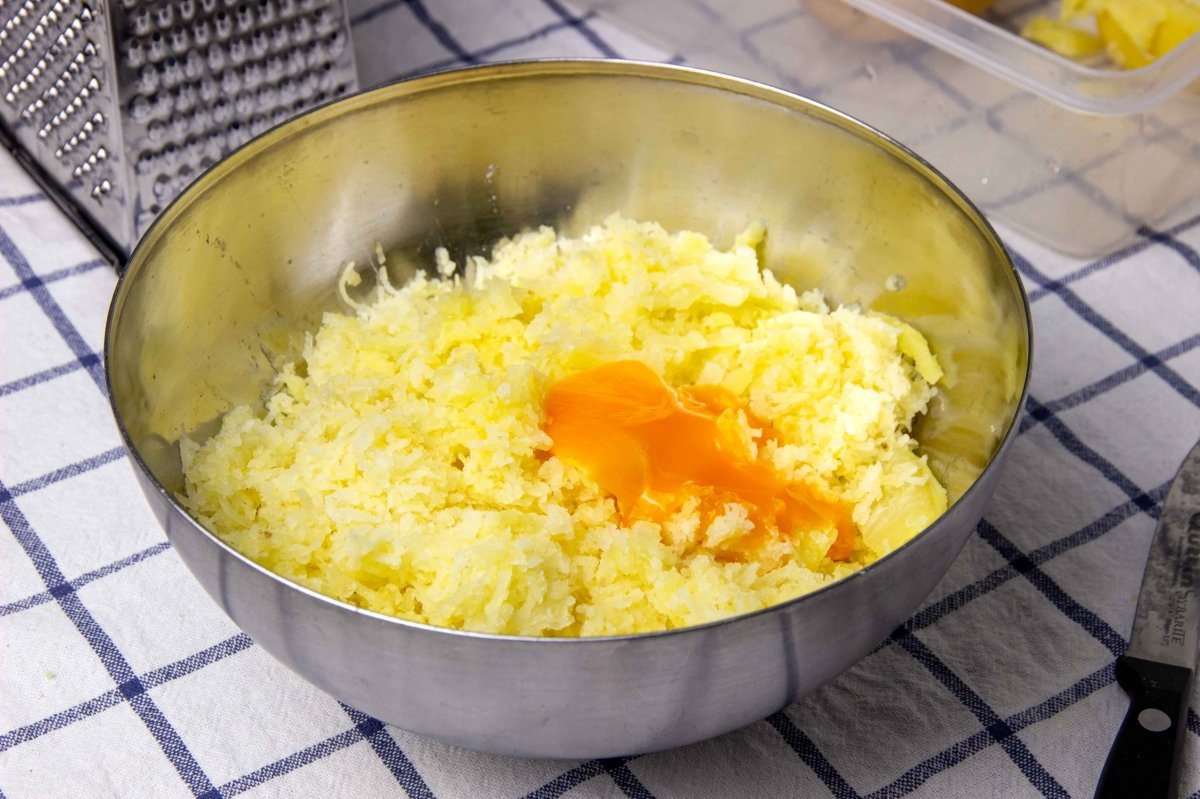 Season the potato dough with salt and pepper and, to give them a reminiscent flair of traditional croquettes, add 1 pinch of nutmeg.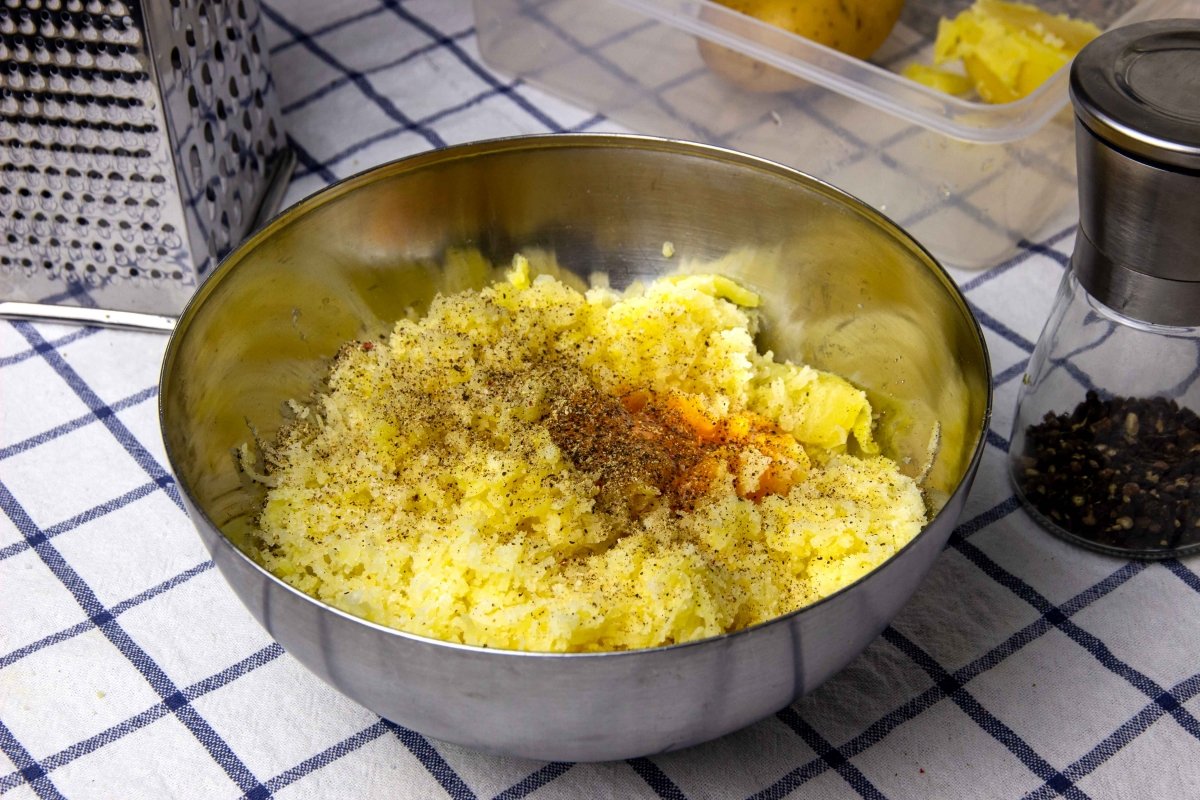 The next step is to add 1 cup of grated Parmesan cheese. You can also use Pecorino cheese.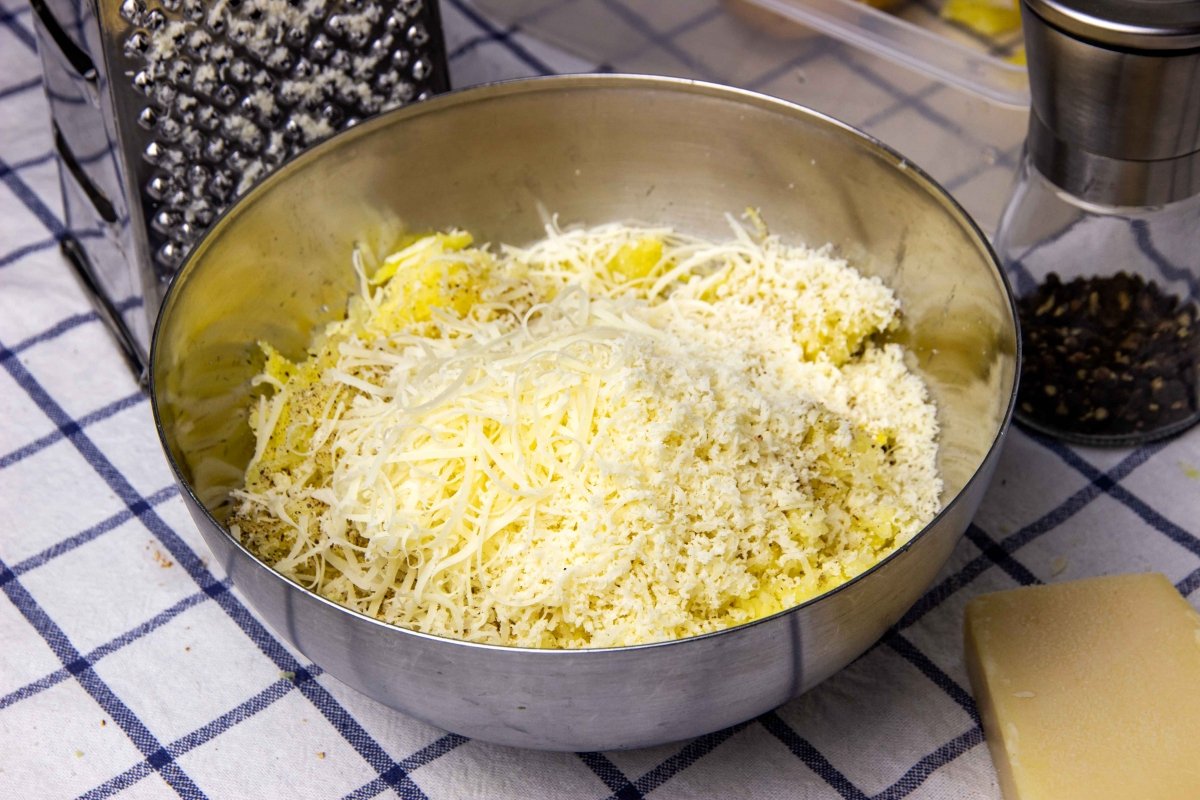 Mix the cheese with the mashed potato well. You can use your hands to do this; that way you can ensure that the ingredients are perfectly mixed together. At this point, if you want, you can add ⅔ cup of cooked ham, although it is optional in this recipe.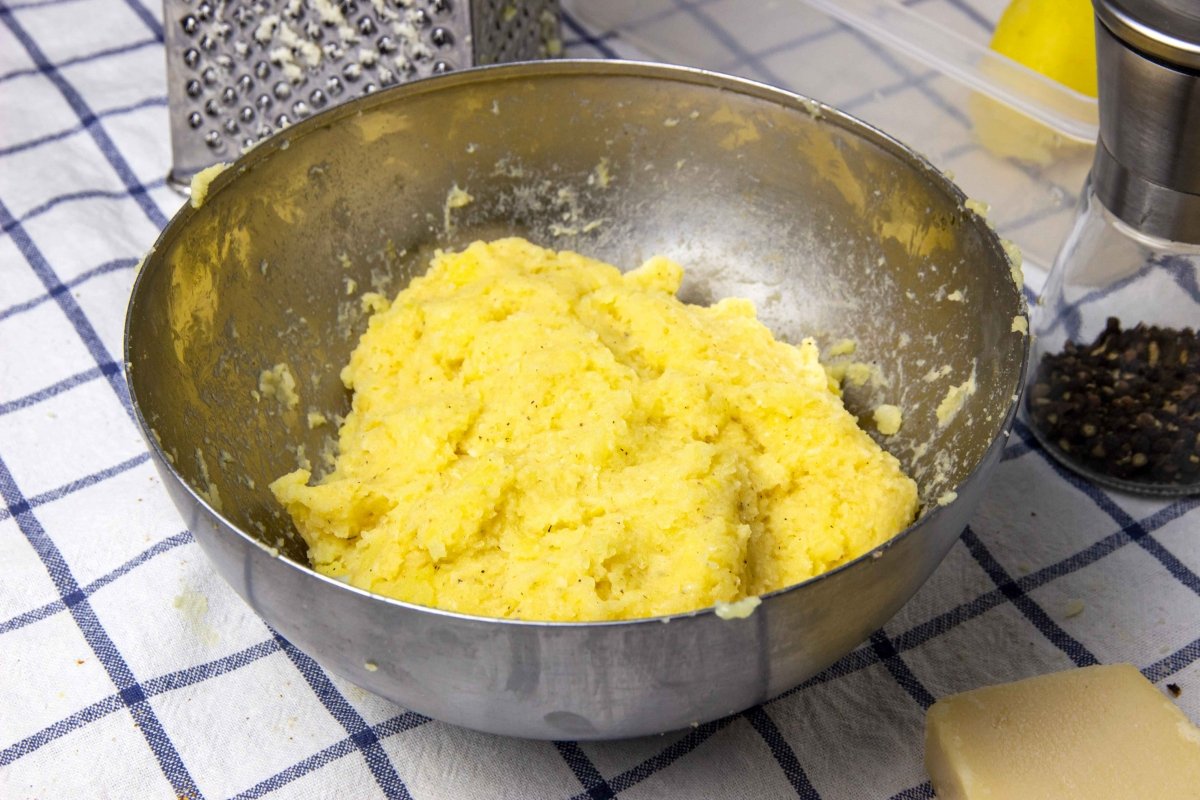 To form the potato croquettes, rub your hands with a little oil. Next, take portions of potato dough and, with the help of both hands, give them an elongated shape. Continue forming the croquettes until the potato dough is finished. You will obtain about 24 croquettes with the ingredient quantities of this recipe.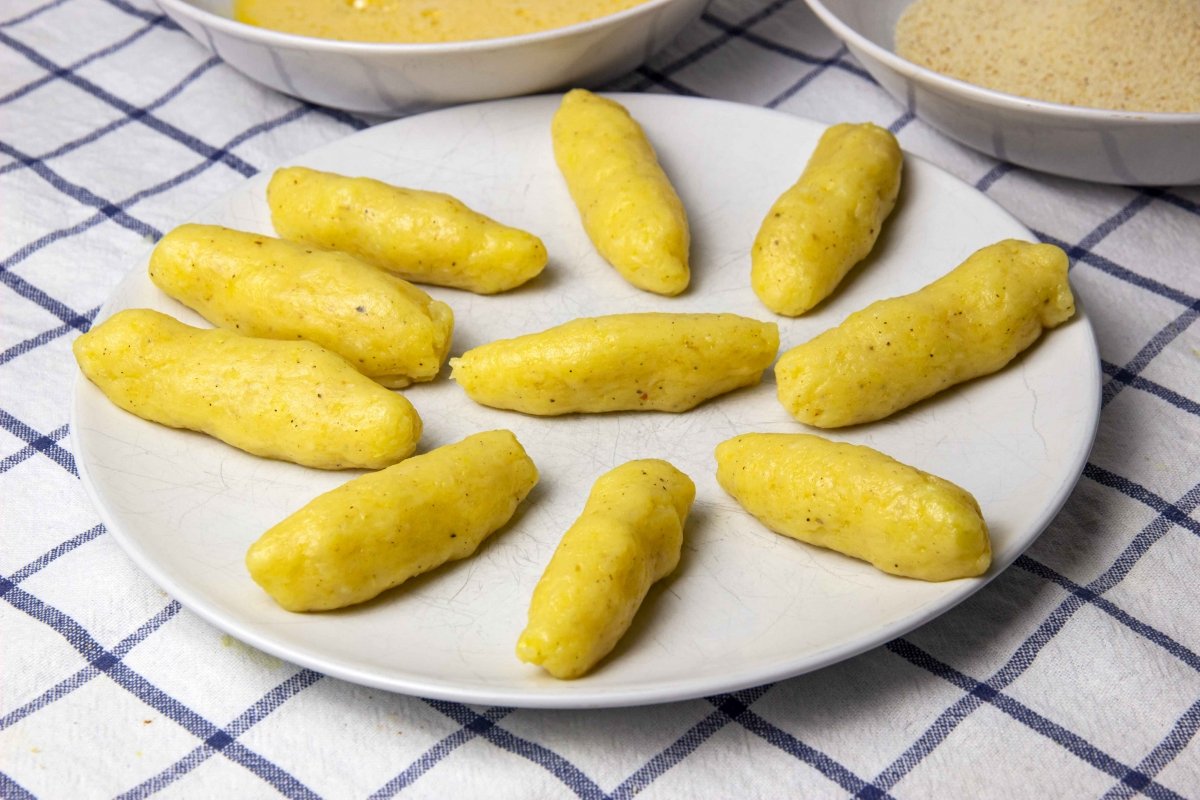 To bread the croquettes, prepare a plate with 1 beaten egg and another one with 1 cup of breadcrumbs. Once you have all the croquettes formed, first dip them in the egg.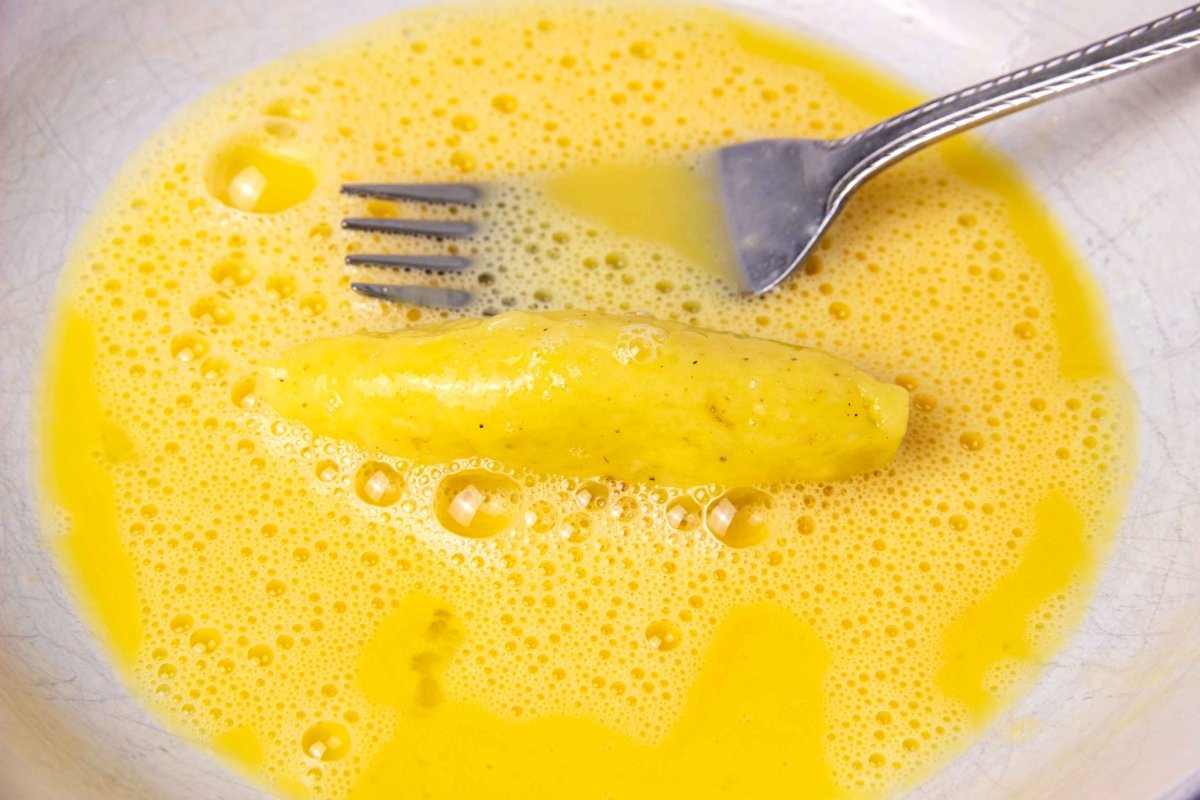 Next, carefully press the croquettes into the breadcrumbs to completely coat them with the breadcrumbs.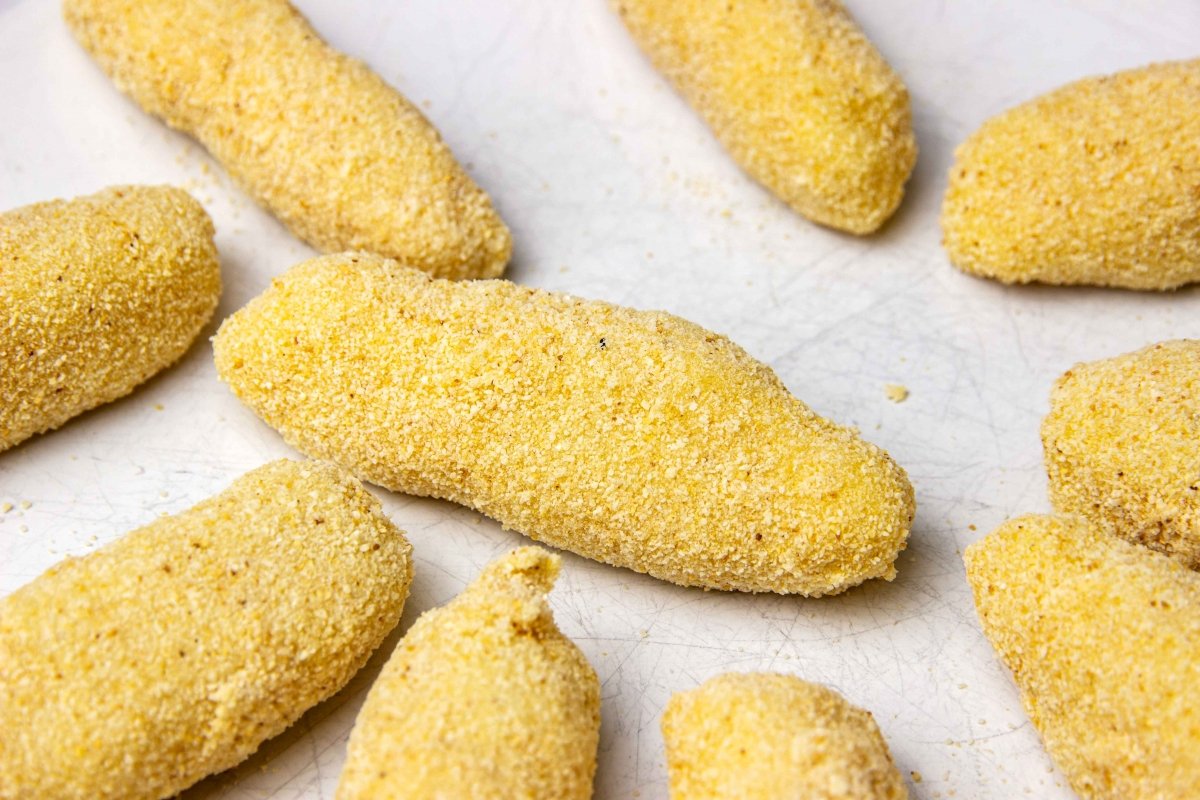 Repeat until all the croquettes are breaded. Once all the croquettes are breaded, fry them for a few minutes in plenty of sunflower oil or a mild olive oil until golden brown. Remove them from the pan and transfer to a plate covered with paper towels to absorb any excess oil.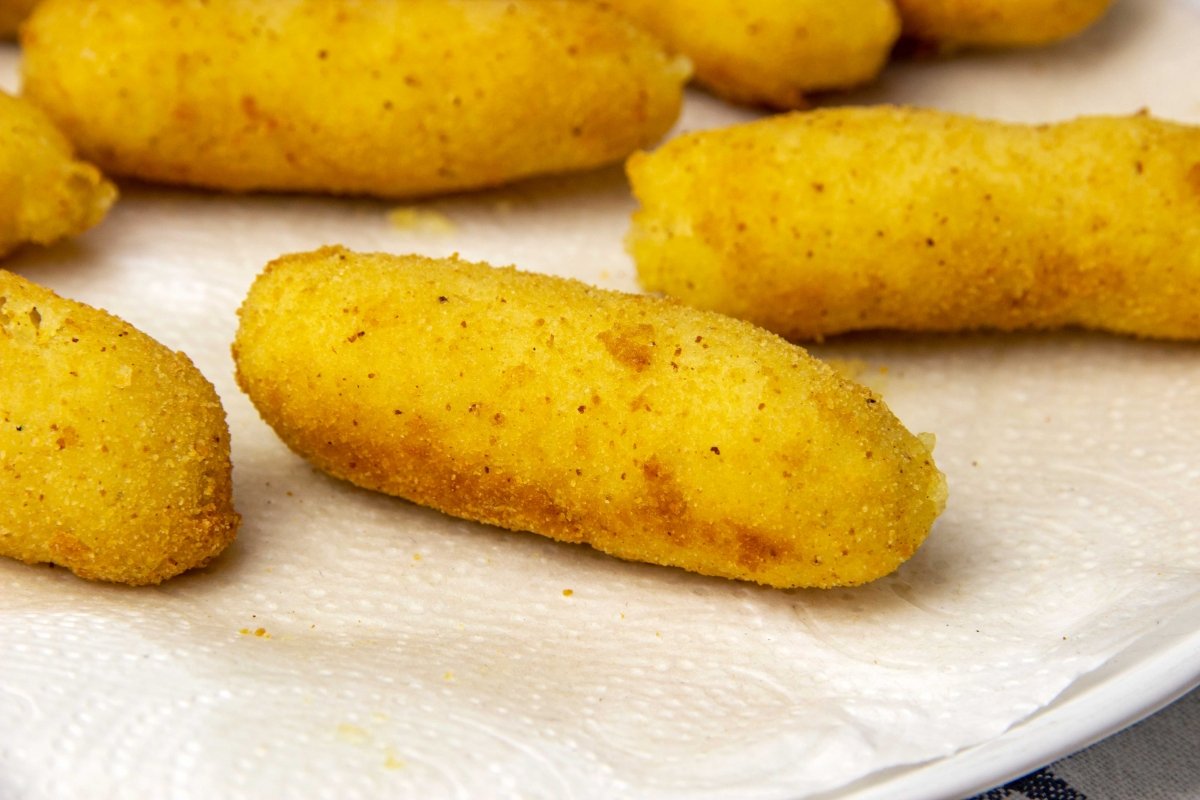 You can serve the potato croquettes with a sauce, such as yogurt dressing or mayonnaise, and add some aromatic herbs, such as oregano, basil or mint.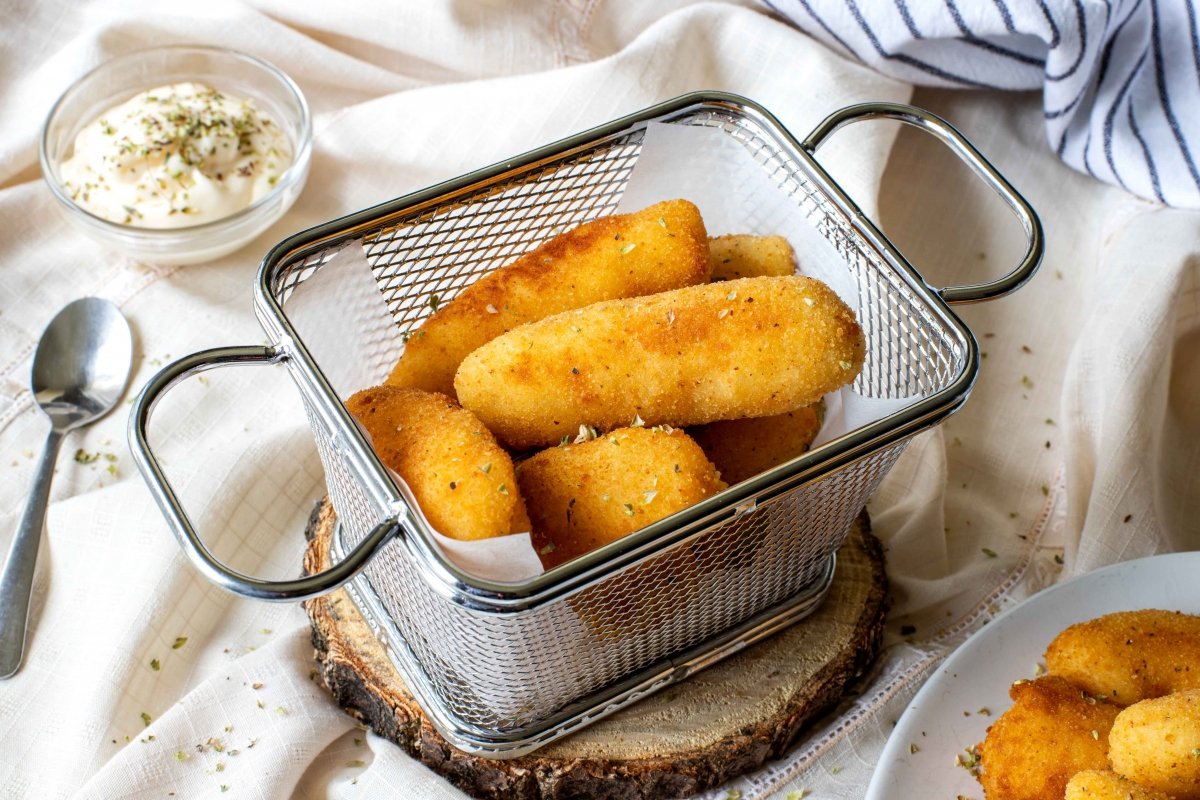 Easy instructions
Wash the potatoes thoroughly
Cook the potatoes in plenty of boiling water
Let the potatoes temper and peel them
Mash or grate the potatoes
Add one egg yolk
Season with salt and pepper and add nutmeg
Add the grated Parmesan cheese
Mix the dough thoroughly until smooth and add the cooked ham if desired
Form the croquettes with your hands giving them an elongated shape
Dip the formed croquettes in beaten egg
Then coat them with breadcrumbs
Fry the potato croquettes and use paper towels to absorb any excess oil
Serve the potato croquettes with yogurt dressing or mayonnaise and aromatic herbs to taste