Fideuá (Seafood Pasta Paella)
You are about to discover the recipe to prepare an authentic seafood pasta paella, known as fideuá. Once you finish cooking it, I promise, you will have a delicious fideuá!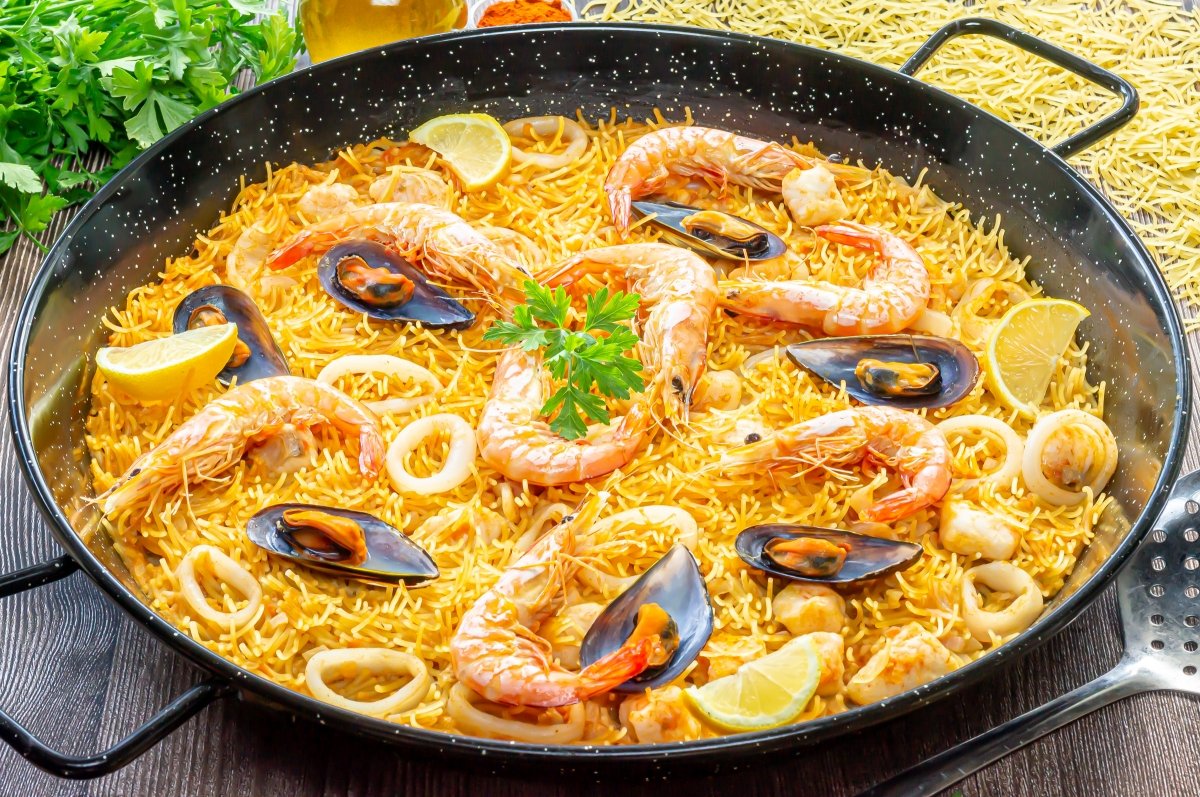 What would you say is the most representative dish of Mediterranean cuisine? Paella? Well, today we will not talk about that dish, but about the one shown in the picture above: the seafood pasta paella, which is known as fideuá. A seafood dish that, alongside the iconic paella, has earned its place as one of the great symbols of the most traditional Valencian cuisine.
Recipe information
Preparation time: 10 minutes
Cooking time: 30 minutes
Total time: 45 minutes
Yield: 4 serves
Category: main course
Type of cuisine: Spanish
Calories per serving (kcal): 655
Ingredients for Fideuá (Seafood Pasta Paella)
4 tablespoons extra virgin olive oil
8 big shrimps (or 4 big shrimps and 4 langoustines)
Salt
1 chopped onion
2 or 3 cloves of garlic, minced
10½ oz skinless and boneless monkfish, cut into pieces
8¾ oz squid (or cuttlefish, cut into pieces)
Ground black pepper
⅔ cup tomato purée
1 teaspoon (not packed) sweet paprika
14 oz of thin and short noodles or noodles for fideuá
3 cups seafood stock
8 large, clean mussels
To garnish:
Fresh parsley
Lemon wedges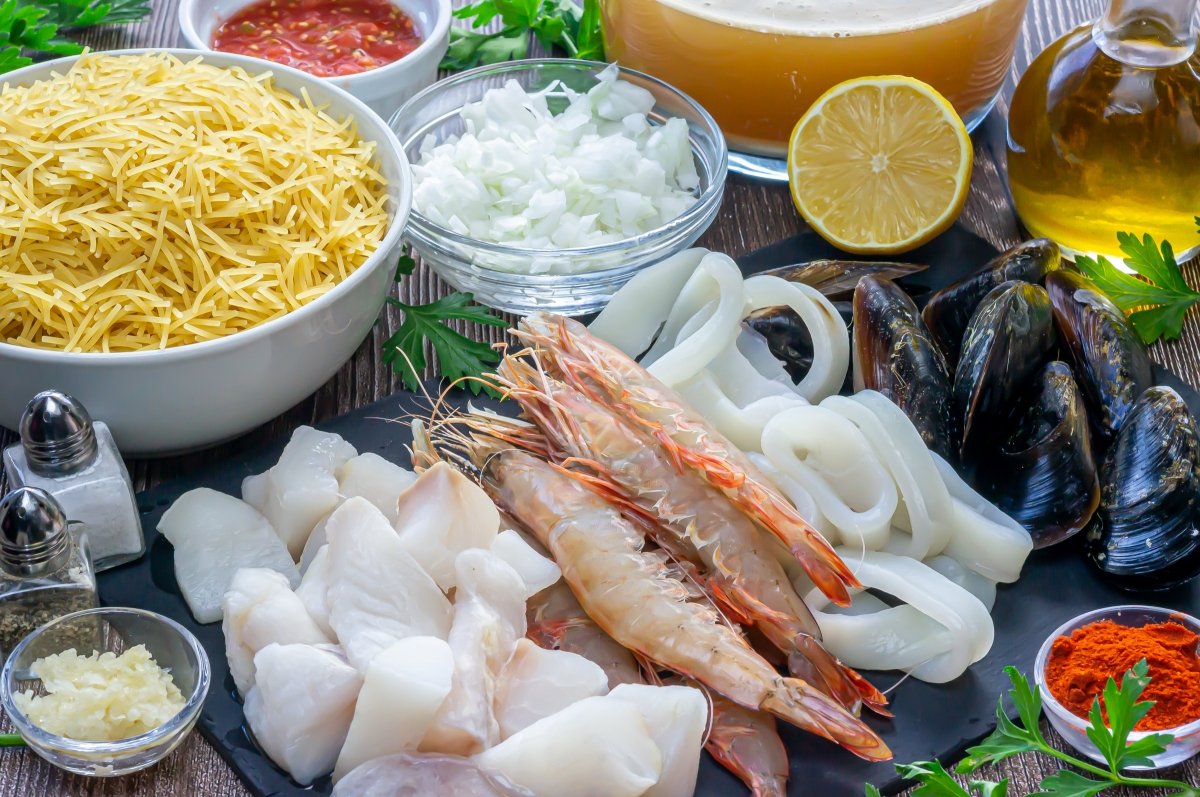 Damián Serrano
How to make Fideuá (Seafood Pasta Paella)
First, heat 4 tablespoons of extra virgin olive oil in the paella pan over a medium heat and sauté 8 big shrimps (if you have langoustines, add them too) for a couple of minutes until they are red on both sides and they have released their flavor into the oil. Season with salt, remove them from the pan and set aside.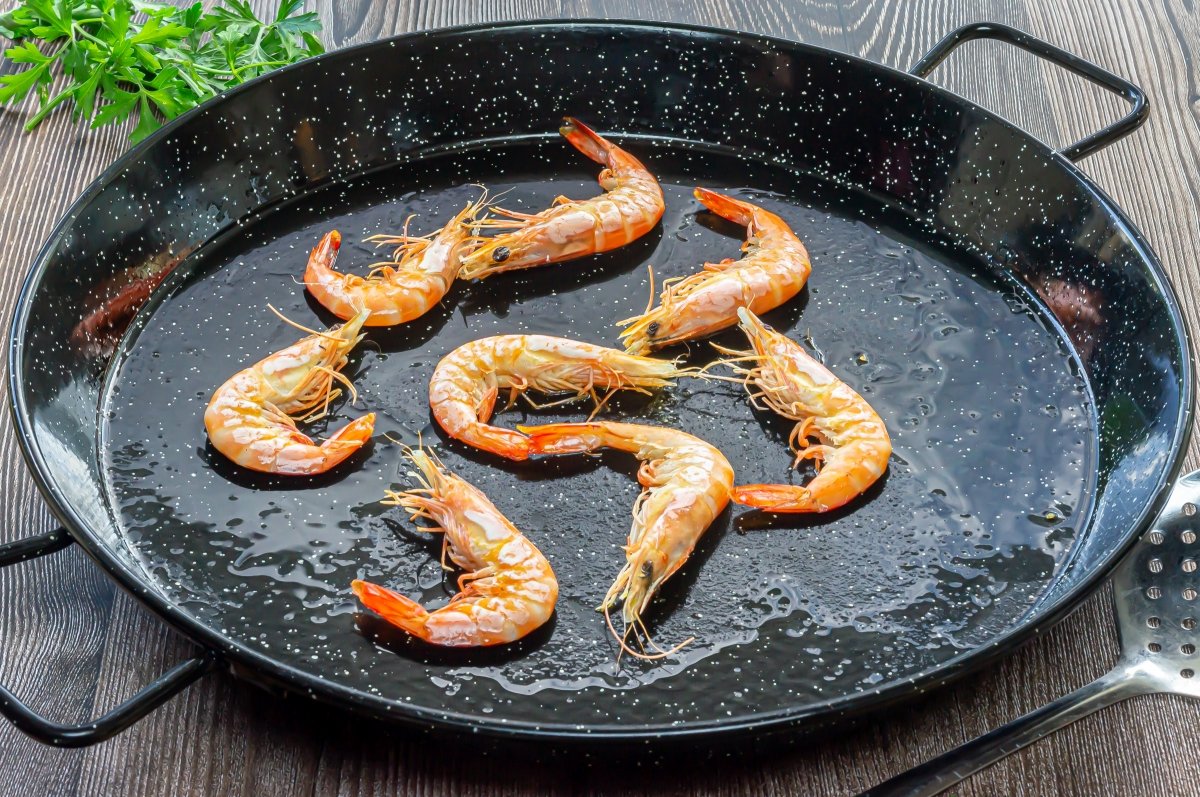 Damián Serrano
In the same oil, sauté 1 chopped onion and 2 or 3 chopped garlic cloves over a medium-low heat for about 6 or 7 minutes, until the onion is soft, but not burned.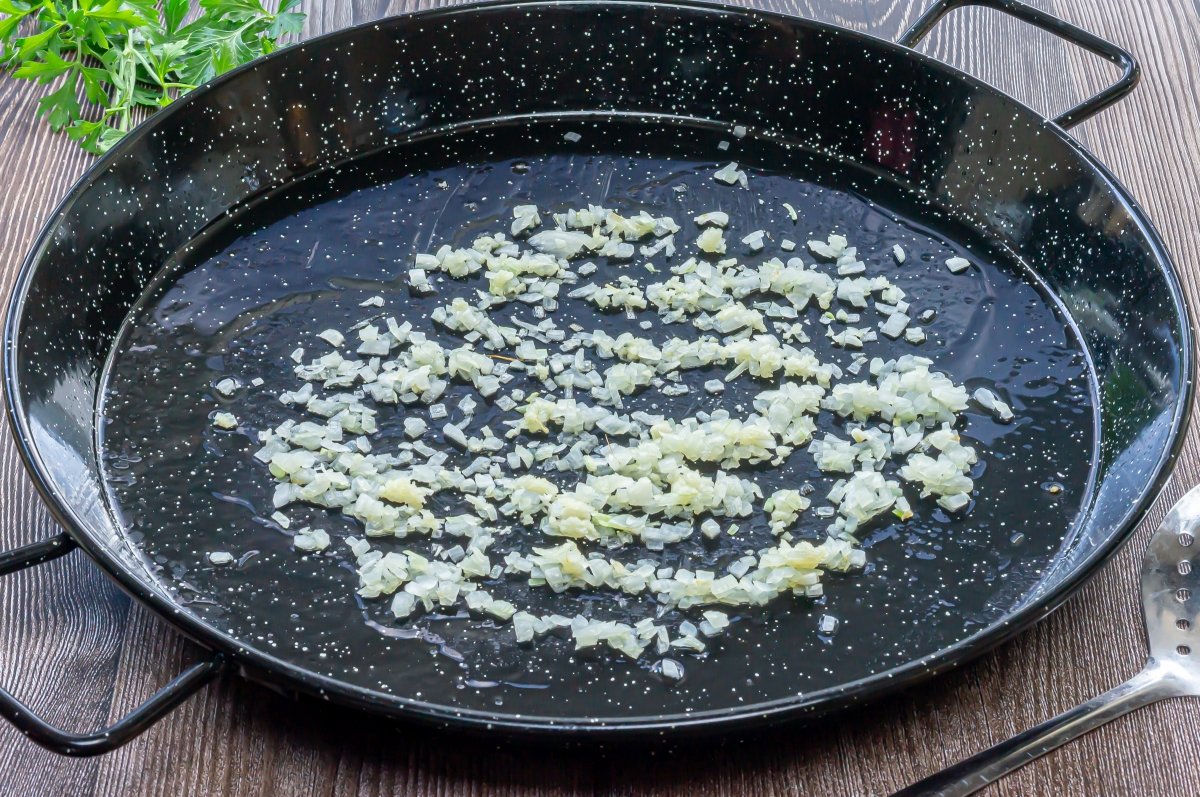 Damián Serrano
Once the onion is soft, add 10½ ounces of chopped monkfish and 8¾ ounces of squid (or cuttlefish) and sauté for a couple of minutes. Season with salt and pepper.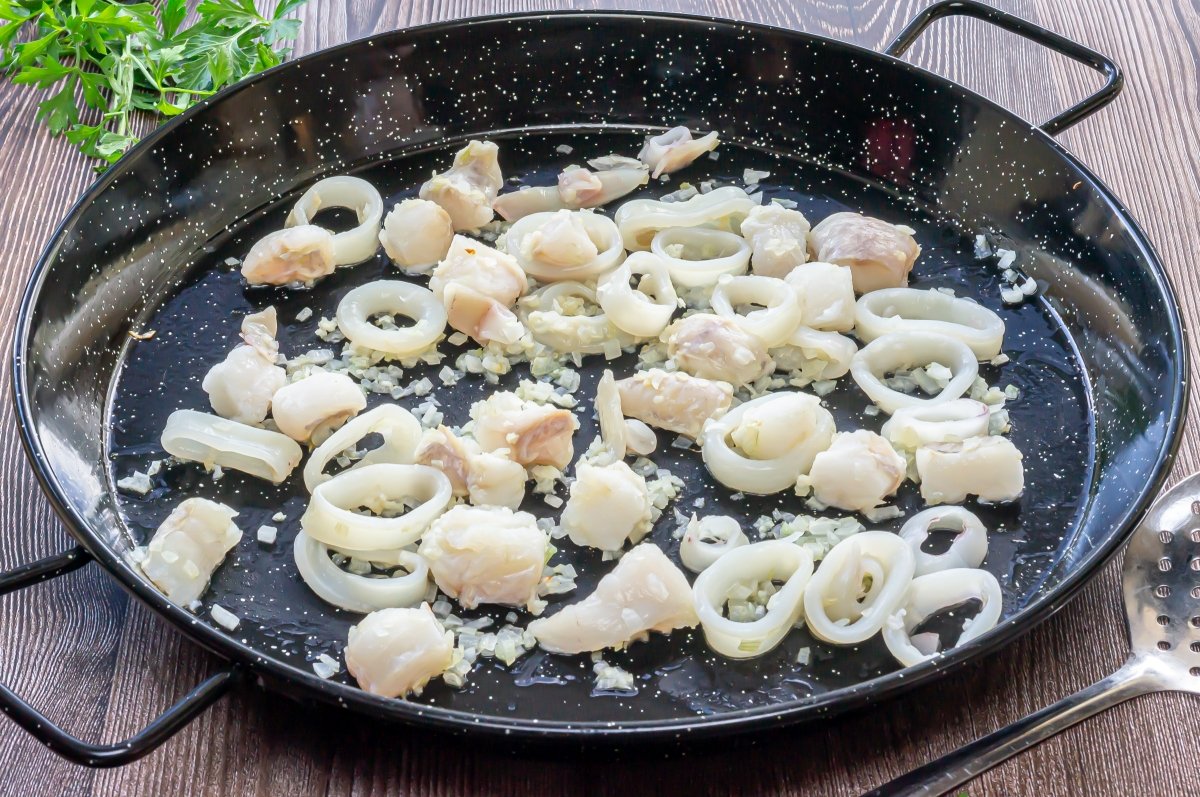 Damián Serrano
Next, add ⅔ cup of tomato purée and 1 teaspoon of paprika on top. Mix well and let the tomato reduce.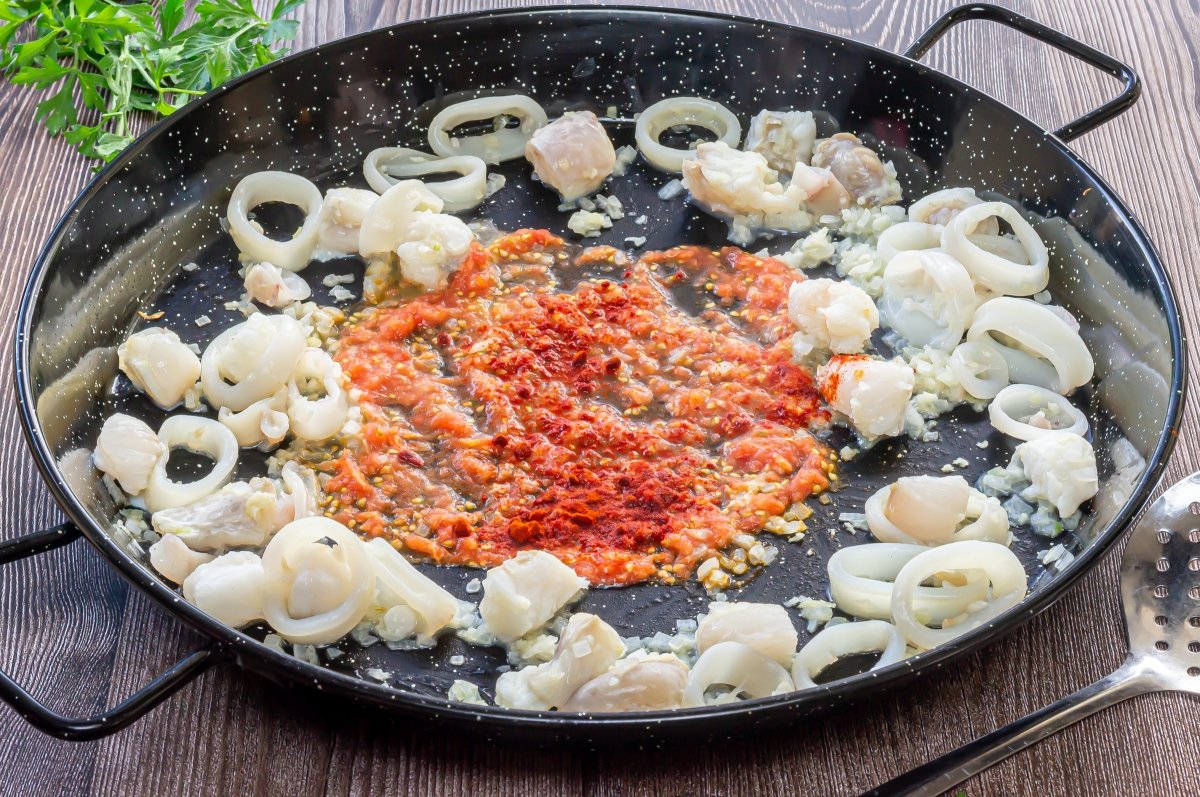 Damián Serrano
Add 14 ounces of noodles to the paella pan and let them cook for a couple of minutes with the rest of the ingredients.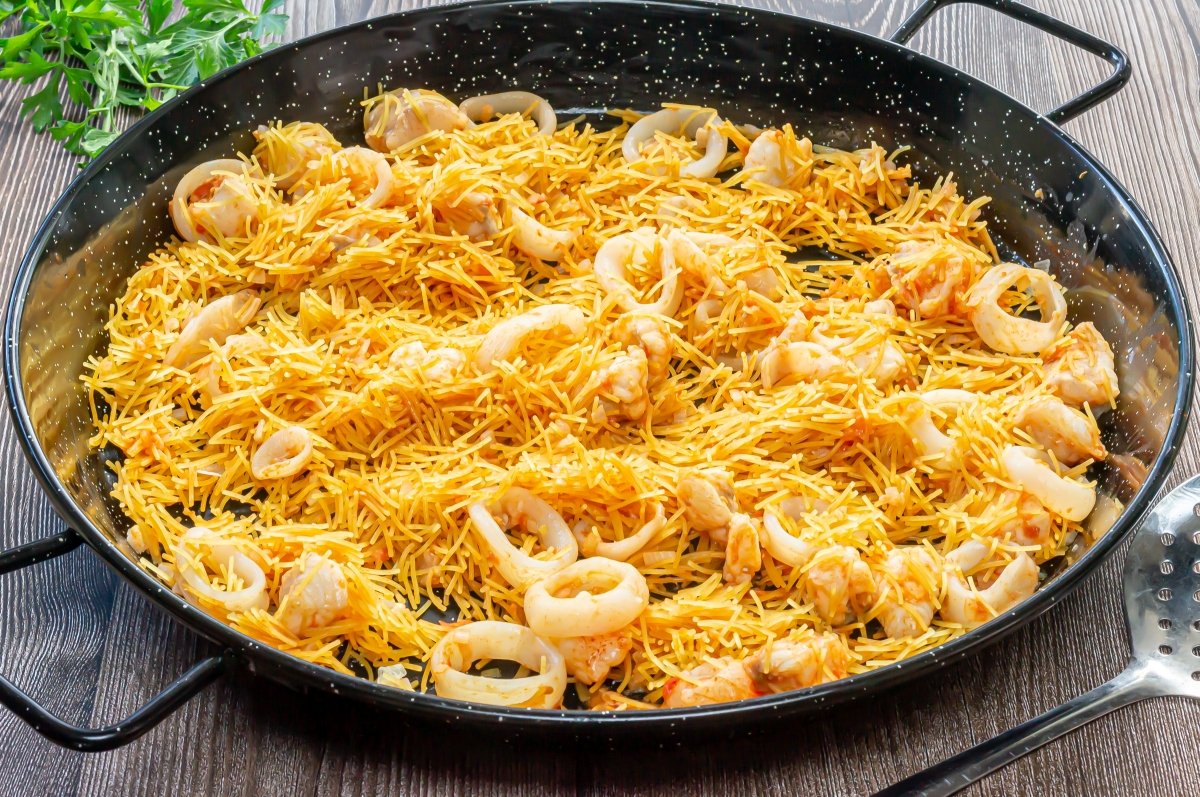 Damián Serrano
Cover with 3 cups of seafood stock and let it simmer over a high heat. Taste and add salt and pepper if necessary. Stir just a little bit to distribute the noodles all over the pan.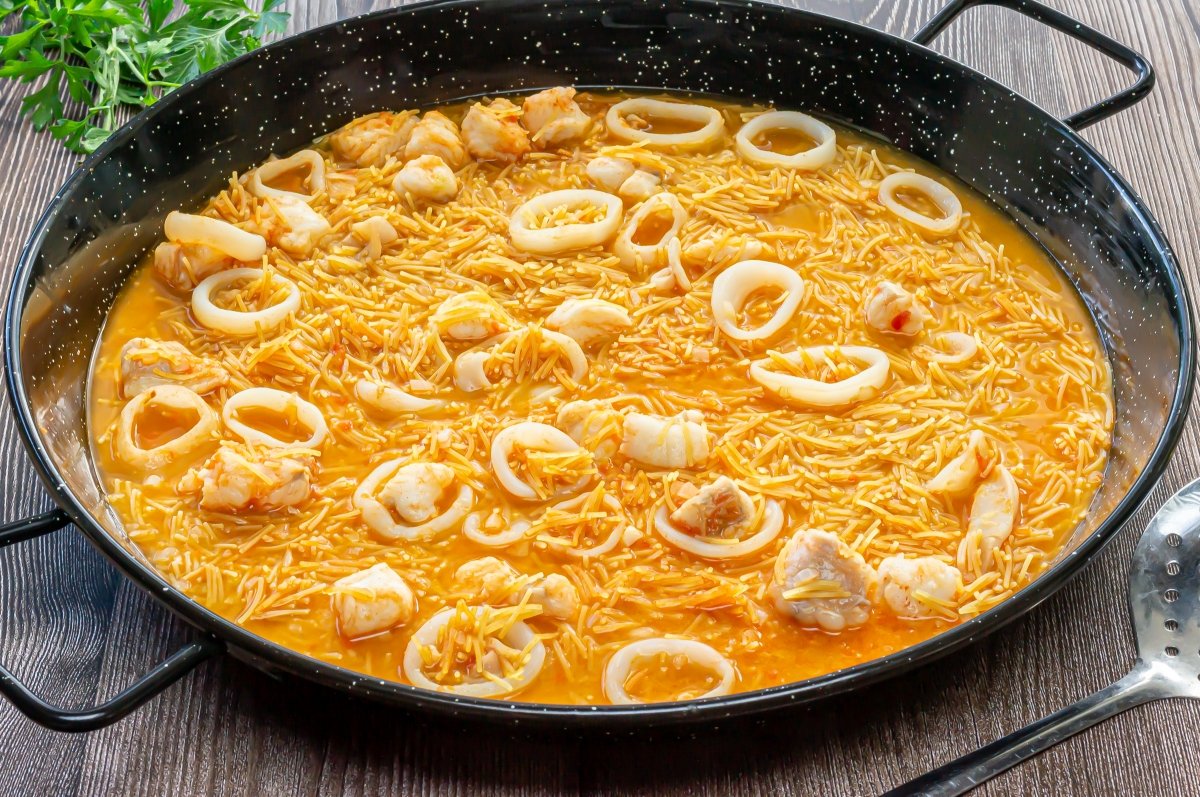 Damián Serrano
Once it starts to boil, place 8 large, clean mussels on top, as well as the shrimp (and langoustines) that you had set aside beforehand. Let it cook half of the noodle cooking time over a high heat and the other half over a low heat. Follow the cooking time indicated on the package.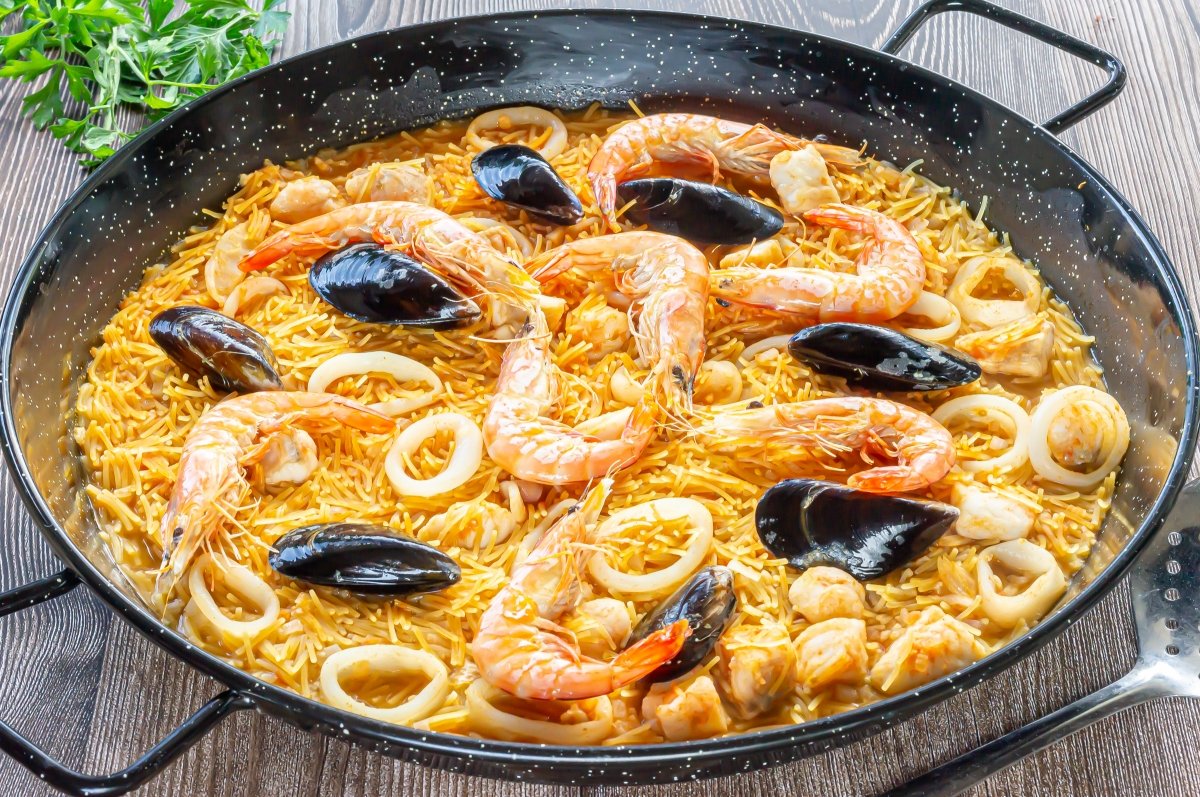 Damián Serrano
Let it rest for about 5 minutes and serve the seafood fideuá garnished with parsley and lemon wedges. You can serve it with the mussels open as shown in the picture.
Fideuá was not born in a professional kitchen as a written recipe with a strict list of ingredients after a meditated process and lots of practice. It was rather an improvised dish that, as with many plans in life, turns out (and, in this case, also tastes) very, very well.
In our opinion, once it is ready and rested, there is no argument: seafood fideuá has little to envy about a rice dish. Although we might be a bit biased, because... We like it a lot!
Easy instructions
Heat the oil in the paella pan over a medium heat and sauté the big shrimps for a couple of minutes. Season the shrimps. Remove them from the pan
In the same oil, sauté the onion and garlic over a medium-low heat for 6 to 7 minutes
Add the monkfish and squid. Sauté for a couple of minutes. Season with salt and pepper
Add the tomato purée and the paprika. Let it reduce
Add the noodles, mix well and cook them for a couple of minutes
Cover with the stock and bring to a boil. Stir a little bit to distribute the noodles all over the pan
Once boiling, garnish with the mussels and big shrimps, and let the noodles cook for half the time indicated on the package on a high heat and the other half on a low heat
Let it rest for 5 minutes. Serve garnished with parsley and lemon