Fried Wontons
Fried wontons or wan tun are a Far Eastern appetizer made by filling wonton wrappers, usually with pork, but also with other ingredients, and then deep-frying them in oil. They are usually served with a spicy sweet and sour sauce and their shapes are varied.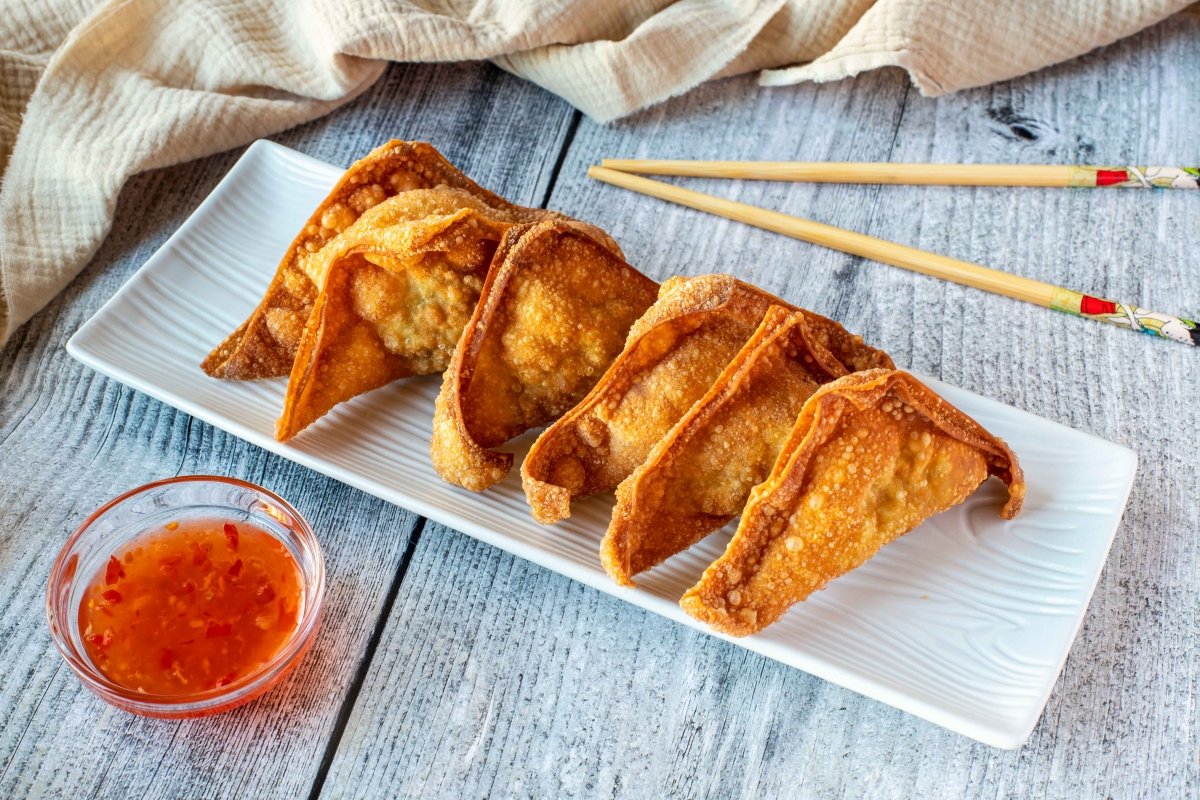 Wonton is an appetizer usually served in many Asian restaurants. Although the most common variety is made with pork, fried wontons can also be filled with shrimp, crab or vegetables. These appetizers offer endless possibilities. You can even make sweet ones with bean paste, or pistachio cream and matcha tea.
Wonton wrappers can be found in the frozen section of Asian food stores and can be made one of two ways: boiled or fried. Wontons are boiled to make the famous wonton soup, which is similar to ravioli but with a consistent broth. In the recipe we are about to share, we will opt for the fried version. What characterizes fried wontons is the fact that they are very crispy, as if they had a crust. The combination of their saltiness with the sweet and spicy sauce is always a success.
Recipe Information
Preparation time: 45 minutes
Cooking time: 15 minutes
Total time: 1 hour
Yields: 4, 16 wantons
Category: main dish
Type of cuisine: asian
Calories per yield (kcal): 237
Ingredients of Fried Wontons for 4 People
16 wonton wrappers for frying
7 ounces minced pork meat
1 tablespoon oyster sauce
1 tablespoon soy sauce
1 teaspoon sesame oil
1 teaspoon white pepper
½ teaspoon salt
1 chopped spring onion (preferably Chinese)
Spicy sweet and sour sauce (for garnish)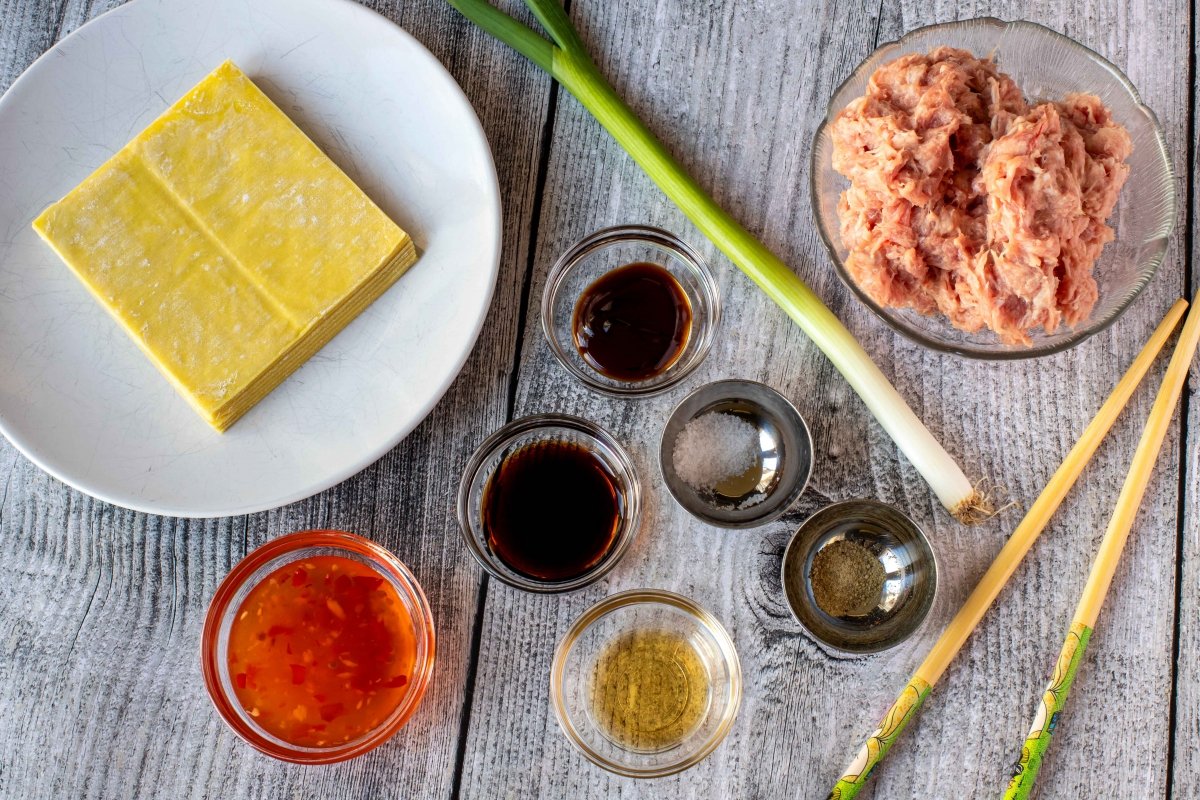 @conkdekilo
How to Make Fried Wontons
First of all, if you have bought frozen wonton wrappers for frying, thaw them so that they are ready for use. To do so, take them out of the freezer and into the fridge a little before preparing the fried wontons. In a couple of hours, they will be ready to use.
To prepare the wontons, put 7 ounces of minced pork in a bowl with 1 tablespoon of oyster sauce, 1 tablespoon of soy sauce, 1 teaspoon of sesame oil, 1 teaspoon of white pepper, half a teaspoon of salt and the chopped spring onion.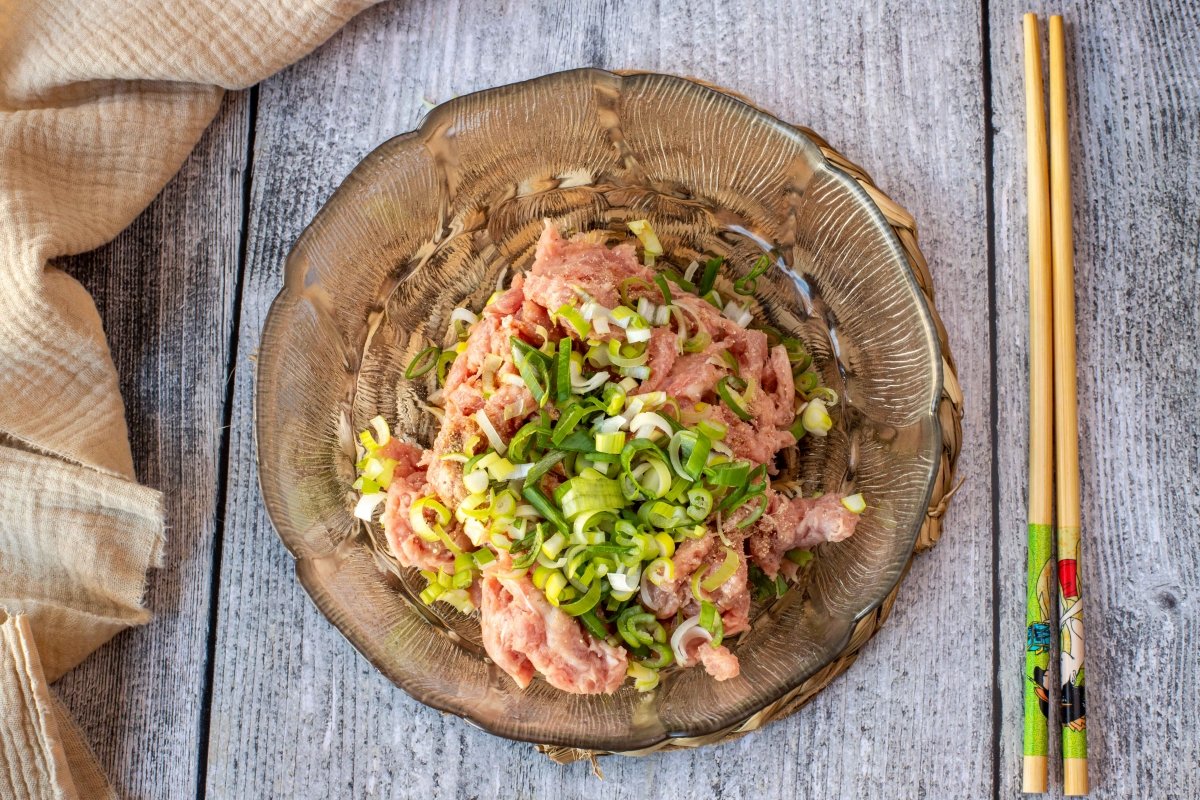 @conkdekilo
Mix and knead all the ingredients that will be filling the fried wontons and let the mixture rest in the fridge for at least 30 minutes, so that the meat takes on all the flavor of the other ingredients.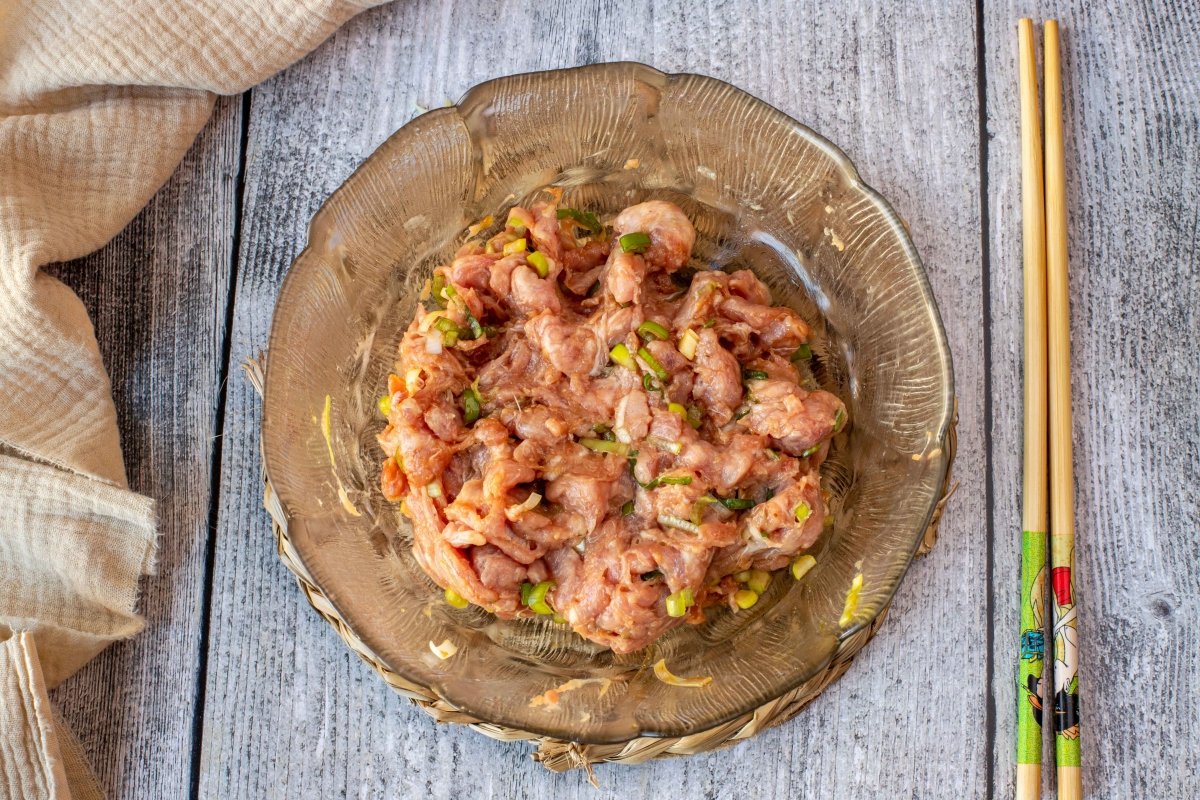 @conkdekilo
Take a wonton wrapper and put a teaspoon of the filling in the middle.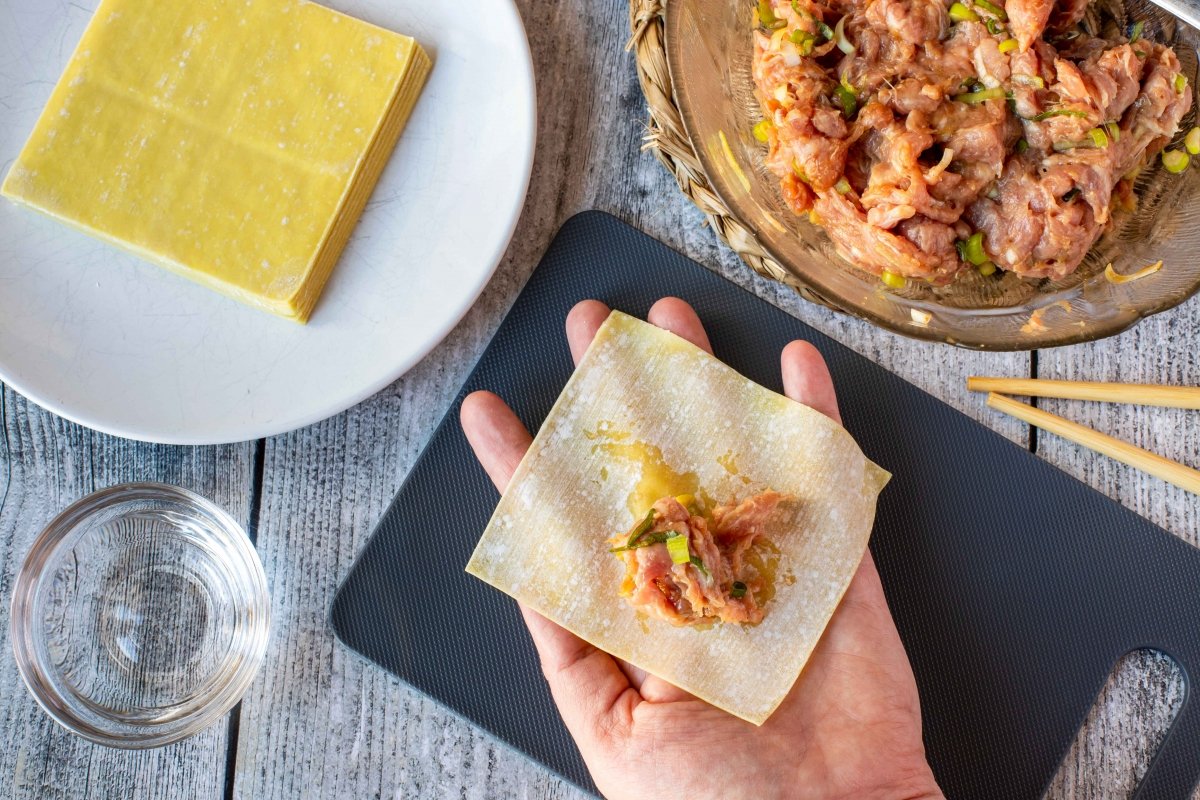 @conkdekilo
Slightly wet, with your finger, both sides of the wrapper on the inside, and close the wrapper in the shape of a triangle. Do the same with all the wrapper sheets.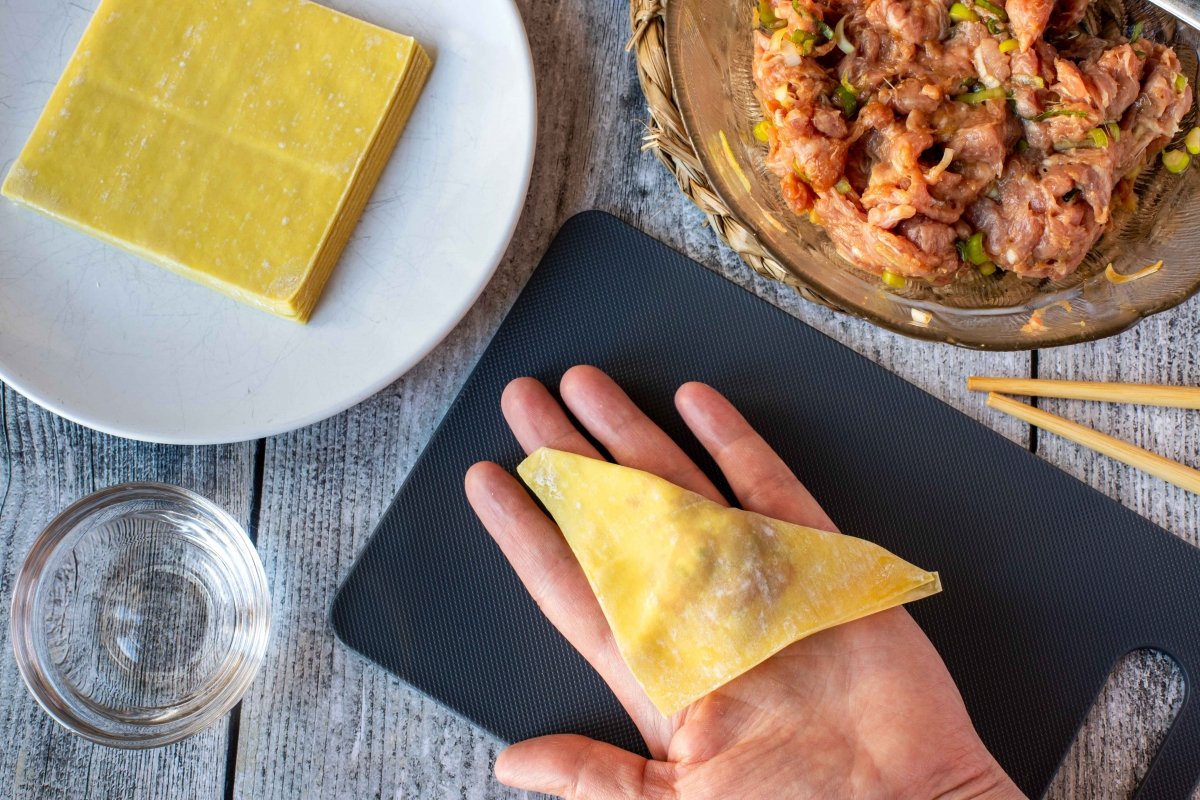 @conkdekilo
Once the wontons are filled, proceed to fry them. It is better to fry wontons with sunflower oil because it does not add too much flavor to the wrapper and makes the outside very crispy. The oil should be at about 170 ºC (338 ºF). The temperature of the oil can be checked with a kitchen thermometer.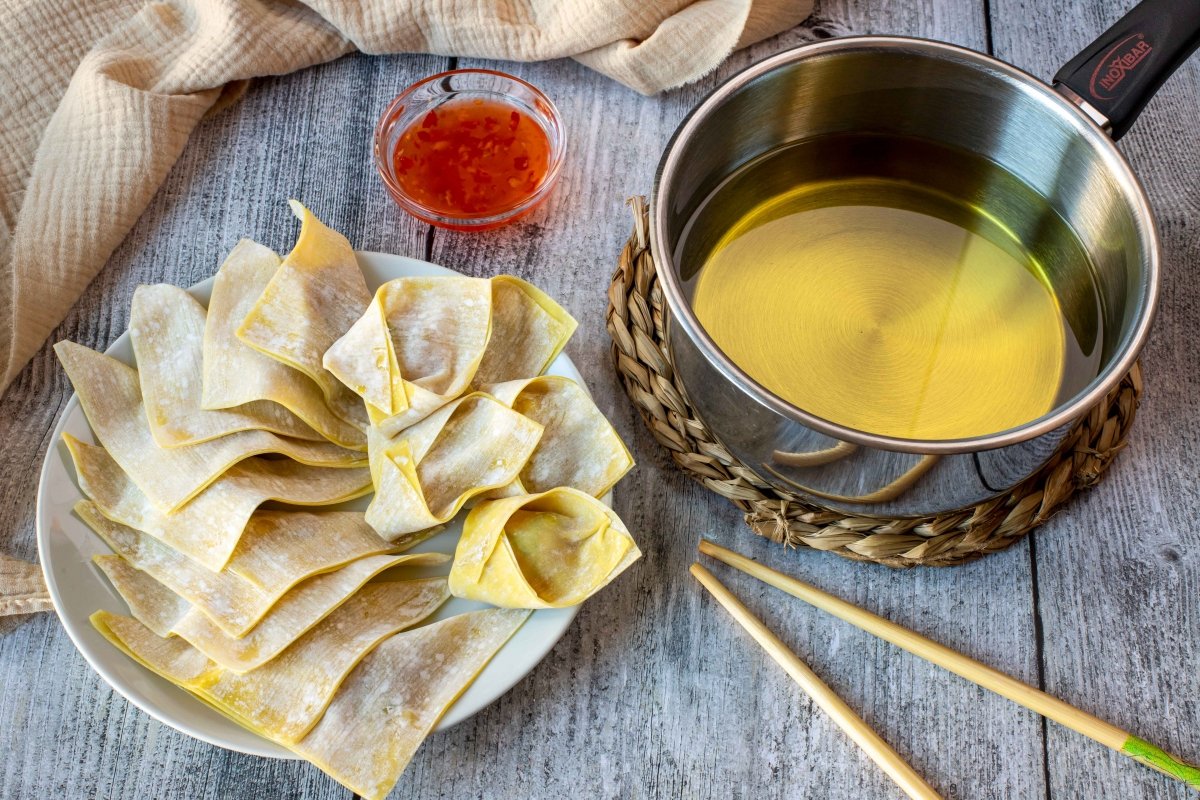 @conkdekilo
Once fried, let the wontons dry on top of some absorbent kitchen paper and serve them immediately, without letting them cool down, so they will be very crispy.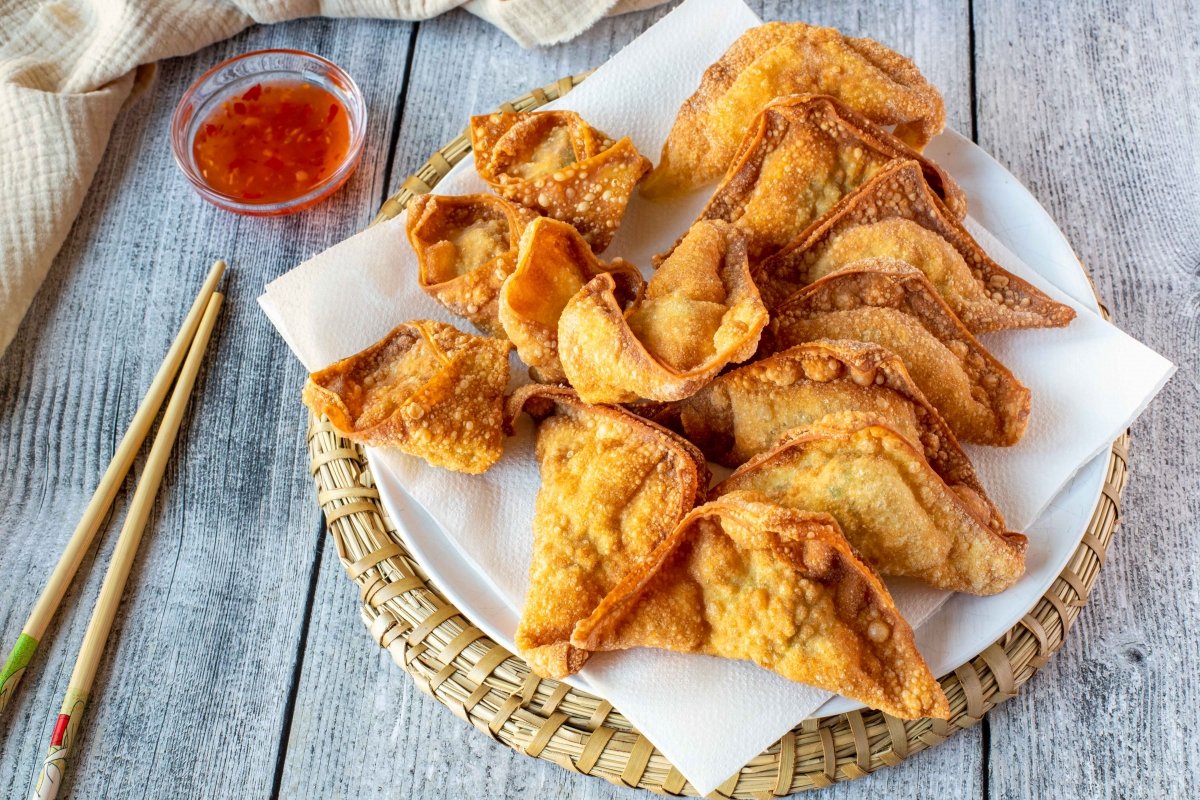 @conkdekilo
Fried wontons can be can served on a plate or platter, with a side of the spicy sweet and sour sauce, characteristic of this oriental dish.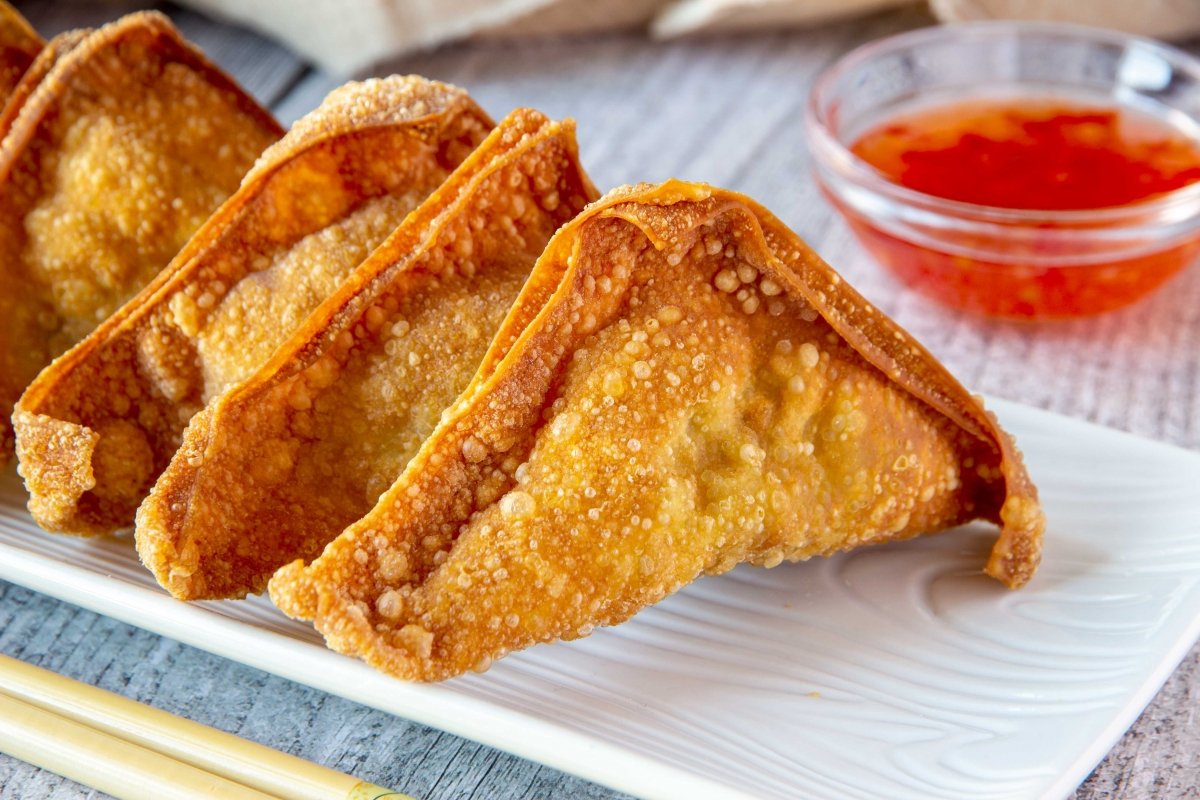 @conkdekilo
Easy Instructions
Defrost the wrappers. Combine the meat with the rest of the ingredients in a bowl
Let the mixture rest in the fridge for at least 30 minutes
Fill the wonton wrapper with the pork mixture
Close the wrapper in the shape of a triangle by sticking the sides together with a little water
Fry the wontons in a generous amount of sunflower oil
Let the fried wontons dry on absorbent paper
Serve the fried wontons with spicy sweet and sour sauce